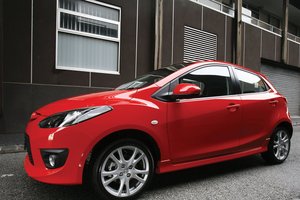 The dilemma
Alex is a recent university graduate who is looking to move on from her parents' 1990 Nissan Sentra hatchback and buy her first car.
"Currently 80 per cent of my driving is on city roads. However I still would like a car that can handle motorway driving and the occasional long distance trip," says Alex.
She is after either a manual five-door hatch or four-door sedan that's preferably New Zealand new and is "reliable, fuel-efficient, safe and with reasonable storage space".
"A new Suzuki Alto for $15,000 drive-away seems attractive as it offers a three-year warranty and some assurance in quality but I'm concerned about the practicality of its small engine size," she says.
Sure Alex, the Alto is a good value-for-money option, but it is best left for those only wanting to travel the inner-city streets.
You're also in the minority, preferring a manual over an automatic, but that is not such a bad option at all.
Manual transmission is bullet-proof and in your price range provides the better fuel economy and lower prices.
I suggest you look for an engine 1.4-litre or above and if storage space is important and you carry specific large items on a regular basis, then make sure you check out the way seats fold and how much the rear doors open.
The budget: $15,000
Honda City S
If you put practicality ahead of stunning good looks the City sedan is definitely worth a look. Day light would come second when comparing overall interior space (especially the boot) with most other small to mid-sized vehicles. Safety extends to the all-important side curtain airbags but sadly no Electronic Stability Control (ESP was fitted in later models) while economy is a claimed 6.3l/100kms. Comfy seats, cruise control and an audio package suited to your age group will make inner city and highway driving a breeze.
Peugeot 207 XS
If you want to compromise on space but feel the need to get behind the wheel of something European with moderate risk, then the manual Peugeot 207 may be worth a look. Ensure the main safety items are covered, including side and curtain airbags and ESP if possible. The New Zealand-new variant with a 1.4-litre engine has a claimed fuel consumption of 6.3l/100km.
Mazda2 Sport
It's pushing the limits of your budget but the New Zealand-new Mazda2 pretty much ticks every box for you - including ESP. The factory-fitted body kit, alloy wheels and fog lights on the Sport make the car a little special. Engine wise it's very reliable with a claimed fuel consumption of 6.4l/100km.
Driven recommends
The Mazda2 if the budget can be stretched but, for under $15,000, try the Honda City.