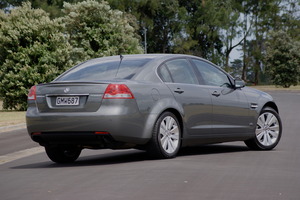 This weekend will surely be an odd time for the Holden faithful, and the fanatical for that matter.
The next generation of the Commodore, the VF, will be unveiled for the first time, calling a halt to the "inside information" of the rumour mill and other wild guesstimations.
What we do know is that Commodore as a large vehicle isn't going to be here for long. New Zealand and Australia mightn't be totally over the big-car mentality (although very close to it), but even those who won't give up the giant saloon know that the writing's on the wall.
It's not only Commodore, the Falcon's staring at a firing squad as well. With small cars making far more power than they used to, and diesels not being the smelly and rowdy machines of old, there are alternatives. Many of us are just trying to figure out which of these alternatives we like.
The large-car segment has been losing traction for years, and you have to wonder how much of the viability equation was based around sentimentality or plain old stubbornness.
It's doubtful that if either the Ford or GM version was a new-ish, fledgling nameplate, they would have gone the distance that they have.
What is it that makes us prefer a particular type of car? I'm not just talking about buying, that's often just a case of necessity. Some vehicles aren't designed to be loved, but there are still people who devote half of their lives to fawning over them.
Take the Trekka that Phil Hanson wrote about recently - it's pure sentimentality that has kept the handful of those that have survived in existence. So what will become of these Fords and Holdens when the market just says no? What will happen to Bathurst, the holiest of all weekends? The replacement for a Commie or Falcon could be a hybrid or electric - you just don't know what the next generation will like, but time, I guess will tell.