Star of the big show is Mazda six-rotor development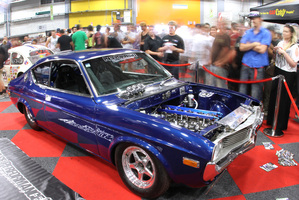 It's the event that anyone with little more than a passing interest in modified small capacity and rotary-engined automotive machinery spends all year counting the days for, and this past weekend the V4 & Rotary Nationals celebrated its 16th anniversary in style.
What originally began as a small gathering hosted by the Mazda Rotary Enthusiasts Club Auckland has grown in to one of the country's largest automotive events and an institution in its own right.
The Nats' success and longevity is something that organiser Azhar Bhamji of 4 & Rotary Promotions puts down to a few key things.
"Being a New Zealand-owned business is definitely a factor, as is our really supportive competitor, spectator and sponsor base," he says, "and we always set ourselves the goal of outdoing our last event and bringing something new to the table to keep the event fresh and relevant."
For day one of the event the halls at Auckland's ASB Showgrounds became a wax-scented haven of polished metal and carbon fibre as 300 mostly Japanese cars of varying make, modification and vintage were put on display.
Outside, the front carpark became the NAC Insurance Live Action Arena with some of New Zealand's top drifting talents competing.
One of the highlights was not a car but an innovative feat of engineering. Wanganui-based tuner PPRE (Pulse Performance Race Engineering) chose the event to officially unveil what's being dubbed a world first in Mazda rotary engine modification: a six-rotor motor.
The largest capacity rotary engine manufactured by Mazda is 2.6-litre 26B four-rotor unit, but that was a non-production model developed exclusively for its Le Mans racing efforts in the 1990s.
PPRE's creation, however, is in effect the mechanical components of three conventional 1.3-litre 13B twin-rotor engines mated by a custom-tooled crankshaft.
A crowd-pulling start-up demonstration of the 3.9-litre peripheral ported 6B revealed a distinctive high-pitched tone.
However, its true potential as a racing engine will be realised only after finishing touches are made to the 1974 Mazda RX-4 drag-racing chassis in which it is fitted.
The show then shifted south, where the event's final day played out at Fram Autolite Dragway, Meremere, in front of an audience eager for action.
They got it too, with almost 250 cars taking to the drag strip - the quickest of the day a tube-framed and methanol-fuelled Mitsubishi Lancer Evolution.
It was one of a handful of pro-level cars that managed to run the standing the quarter mile (400m) in 8s at speeds nearing 275km/h.
Included in that line-up was an inconspicuous 1997 Nissan Stagea built by Rotorua performance workshop RIPS.
Wearing the personalised registration plate MGAWOT - a nod to its 1000kW (1mW) turbocharged and nitrous oxide-assisted six-cylinder engine - the street-legal station wagon powered its way to a 8.8s pass at 257km/h, earning its owner a track class record.
There were plenty of drivers who didn't fare so well, some reducing their car's driveline and engine components to metal shards on the start line.
In between the drag strip competition the purpose-built concrete burnout pad received an additional layer of rubber from more than 20 competitors, none of whom were shy in putting pedal to the metal for a shot at "skid king" glory.
Many tyres were harmed in the process.
With an estimated 25,000 spectators through the gates over the course of the weekend it's a given that the Nationals will be happening again next year.