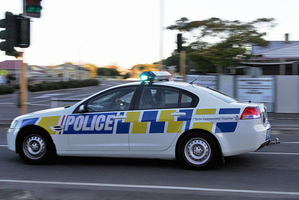 A motorcyclist was thrown into the air when he was hit by a 13-year-old boy fleeing police in a stolen car.
The Herald has learned that the boy was spotted in the stolen Subaru on Henderson Valley Rd about 5.20pm on Monday. There were two other people of about the same age in the car.
Police used lights and sirens to try to stop him but he took off at speed.
Inspector Rod Fraser from the Waitakere police said the boy managed to get a "considerable distance" in front of the patrol car as it stopped to turn and follow the Subaru.
"By the time police had reached the intersection of Parrs Cross Rd and Bruce McClaren Rd, the driver of the Subaru vehicle had collided with a motorcyclist, causing him to lose control of his motorcycle and fall," he said.
"The driver of the stolen Subaru and his two passengers then ran away from the location but were tracked and apprehended by a police dog a short time later."
The Herald understands the youth hit the motorbike so hard that the rider was thrown into the air and was lucky not to be killed or suffer serious injury.
It was not clear how fast the boy was driving, but speed limits on Henderson Valley Rd vary between 50km/h and 70km/h.
The boy was said to be goingfaster than the speed limit to outrun police.
Mr Fraser said the motorcyclist was shaken but uninjured. It is understood that his motorbike was written off.
The 13-year-old and his friends were referred to Youth Aid.
At 13 a person is still legally considered a child rather than a youth. They cannot be put before the courts and are dealt with under the provisions of the Children, Young Persons and their Families Act 1989.