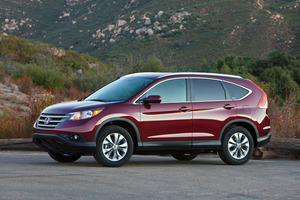 When the first CR-V launched back in the mid 1990s, soft-roaders were still a new concept.
Honda sold the four-wheel-drive wagon as the ideal family conveyance, complete with picnic table in the boot and another that folded down in the cabin on which to serve wilderness snacks.
Now SUVs have hit the mainstream. Only small cars sell in greater numbers and SUVs are seen as everyday family wagons, to the point that increasing numbers arrive in two-wheel-drive format. Like this CR-V S, and several competitors we've driven recently.
I'm not a believer. If I want a wagon, I want one that drives like a car; high-riding wagons deliver a commanding view over inner-city traffic, but that's not enough to offset the disadvantages of SUV handling and increased thirst, at least, not in my book. But this Honda suggested I reconsider.
Its front wheels are powered by a normally aspirated 2.0-litre petrol with 114kW and 190Nm that, on paper, looks insufficient to shift this spacious body, and I expected the car to guzzle go-juice to compensate.
But after 500km or so of mixed terrain, including trans Waitakeres commutes at an often brisk pace, we averaged 8.2l/100km. That's not too far above the 7.7l/100km claim and well below the 10l/100km or more achieved in equivalent competitors we've recently tried, despite the fact we never tapped the eco button.
True, you do need to thrash the throttle to extract anything resembling brisk performance, but it'll deliver daily-driver mode with casually comfy aplomb.
And though an over-keen approach to open-road bends results in early understeer, that's not unexpected from the format, which at least delivers comfy ride.
Despite a smaller footprint than its predecessor, this is a spacious wagon. Rear seat passengers are especially well off, while you could tuck the AB scrum in that 589-litre boot with room to spare. A lever each side drops the second row seats in one easy movement to liberate 1146 litres.
I'm still not sold on 2wd SUVs, but can understand why you'd buy one like this.
It delivers a lot of car for the $39,990 price, which includes stability control, six airbags, climate control air, Bluetooth, cruise control and a reversing camera - and velour seats, a fashion faux pas you can fix by spending an extra nine grand for the four-wheel-drive Sport with leather seats and a sunroof.