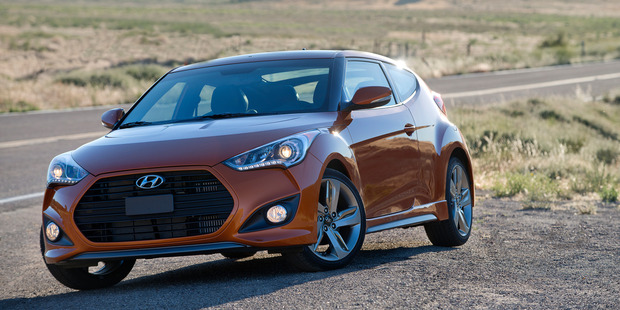 Veloster gains a turbo boost to help it compete against Toyota's GT 86
Less than a month before Toyota introduces its GT 86 sports coupe, Hyundai New Zealand is releasing a rival - a turbo version of the Veloster.
Hyundai's hatch-coupe will be priced from $49,990 for the six-speed manual. A six-speed auto version will also be available.
The 1.6-litre engine will benefit from turbo and the Veloster's power output leaps nearly 50 per cent to 150kW. Torque increases 60 per cent to 262Nm.
To cope with the extra performance, the SR Turbo gets ventilated front disc brakes that are 20mm bigger than those on the non-turbo models, recalibrated suspension, a quicker steering rack (2.78 turns lock to lock) and revised calibration for the motor-driven power steering.
It is distinguished from less-powerful Velosters by a more aggressive grille, round front fog lamps, 18-inch alloy wheels with chrome inserts, side skirts, a rear diffuser, rear spoiler and twin circular exhaust outlets.
Standard equipment includes a panoramic glass sunroof and sports seats upholstered in a mix of leather and leatherette.
The Veloster has been the top-selling sportscar in Australia since it went on sale in February - although its lead will certainly be chopped back with the arrival of the GT 86.