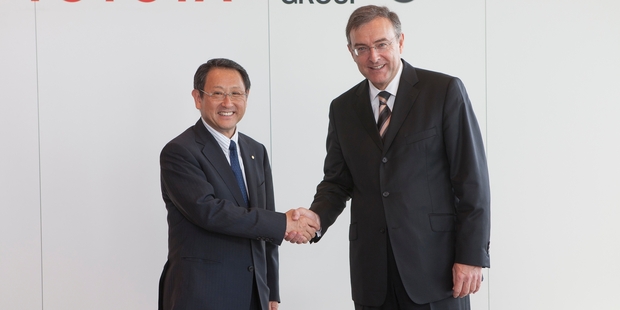 BMW and Toyota have agreed to jointly develop a sportscar as part of a planned expansion of engineering ties that will also include co-operation on fuel cells, light-weight vehicle design and electric powertrains.
The memorandum of understanding for long-term strategic collaboration was signed in Munich by Toyota Motor Corporation president Akio Toyoda and BMW Group chairman Norbert Reithofer.
The deal expands on an existing pact signed last December, under which BMW will supply fuel-efficient diesel engines to Toyota for its European cars from 2014 in return for access to Toyota electric powertrain technology.
In March, the companies also agreed to pool research efforts on lithium-ion batteries.
BMW and Toyota said the arrangement would be confined to engineering and vehicle development, and that no shares would change hands.
Announcing the new arrangement, Toyoda said Toyota and BMW shared a common principle - a mission to make ever-better cars.
"We are not coming together to become bigger," he said. "We are not coming together to form capital ties. We are joining hands because we want to make ever-better cars."
Toyoda said that while Toyota was strong in environment-friendly hybrids and fuel cells, BMW's strength was in developing sportscars.
"They know how to make a car perform," he said. "I get so excited thinking about the cars that will result from this relationship."
Toyoda indicated that the deal would involve hands-on input from both him and Reithofer, who are both renowned "car guys".
"I very much look forward to the 'car talk' between both companies' engineers at the Nurburgring and other places where cars are developed," he said. "The attractive and emotional products we plan cannot be born in conference rooms.
"They can only be the result of real car talk where development actually takes place.
"And I could not be happier if Chairman Reithofer and I were able to join such car talk."
Reithofer likened current changes in car design to the move from typewriter to laptop to iPad, saying BMW and Toyota shared the same strategic vision of sustainable individual mobility.
"Mobility and its industrialisation are in the midst of a technological shift," he said.
"At the BMW Group, we refer to this as 'iconic change'. I believe this is the most decisive moment our industry has ever faced."
No details of the proposed jointly produced sports car were given by the companies, expect to say it would involve the architecture and components.
The car is likely to borrow technologies from both sides, such as lightweight carbon-fibre reinforced polymer (CFRP) panels from BMW's i3 and i8 and an electrified powertrain from Toyota.
The latest statement mentions the sportscar architecture and components, meaning each of the companies is likely to provide its own uniquely styled body over the shared underpinnings.
The deal means BMW will severe its existing co-operation with GM on fuel-cell research, but will honour its deal to supply engines from its Mini to PSA.
For BMW, the arrangement provides engineering economies of scale to compete with Europe's biggest motor company, Volkswagen Group, which can amortise technology developments across its 10 brands, including Porsche and Audi.
While Toyota has been pressing ahead with hybrid commercialisation through its Prius and Lexus hybrid models, BMW has developed its own "i" brand of lightweight electric and plug-in hybrid cars such as the i3 city runabout and i8 hybrid sportscar.
-Go Auto