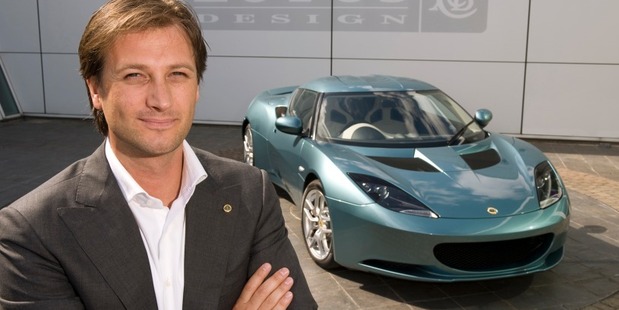 Lotus has sacked chief executive officer Dany Bahar just two weeks after standing him down pending "an investigation into a complaint about his behaviour".
Those complaints are understood to centre on Bahar's love of fast living, which allegedly included giving away Lotus cars as gifts and making generous use of helicopters, first-class flights and five-star hotels.
UK-based Bahar, 41, also rented a house in Norfolk, where the carmarker is based, and undertook substantial renovations, now the subject of legal claims over unpaid work.
Industry sources told The Independent newspaper that DRB-Hicom, the Malaysian owner of Lotus, is making Bahar a scapegoat for the failings of its own subsidiary, Proton, which has controlled the carmaker for more than a decade.
Although his dismissal followed an official investigation, sources inside the company claim that DRB-Hicom, which bought Proton this year, wants to get rid of all the executives involved with Lotus so it can rearrange the £270 million ($538m) syndicated loan put together to help finance the carmaker's five-year plan.
More than 1200 jobs at its Hethel factory are said to be at stake.
The Malaysian owner has already sacked the top two Proton officials who backed Bahar's plan to turn the company into a specialist sports carmaker.
Three years ago, Bahar was brought in from Ferrari, where he was vice-president of sales, marketing and communications from 2007 to 2009, having previously worked for the Sauber and Red Bull Formula One racing teams.
Bahar initiated a five-year turnaround plan for Lotus that involved increasing sales in emerging markets such as China and launching five new models, starting with a new Esprit at the end of 2013. Five new concept cars were presented at the Paris motor show in 2010.
Late last year Bahar told former Driven editor Alastair Sloane that Lotus has been neglected as a brand.
"Twenty years ago we were mentioned in the same breath as Ferrari and Lamborghini. But there has been no investment lately," he said.
"So, over the next 10 years, we will invest NZ$1.6 billion. Our new range will be world class, innovative, pioneering and green."
Bahar believed Lotus has created a new icon in the Esprit.
"In the past, when people thought of the Esprit, they thought of the movies - Pretty Woman, Basic Instinct - but this time around, the car is the star of the show," he said.
"There's a fine balance in acknowledging the greatness of the past while rapidly leaping forward to the future and ensuring that this car not only does the name Esprit justice but also the Lotus brand.
"I think we've managed to find the balance. The design is aggressive. You have to see it to appreciate how low and wide the proportions are, but it still retains a level of dignity, of class and, most of all, exclusivity."
"We will continue to follow performance through lightweight, but that doesn't mean that our cars must weigh less than 1000kg. It means they are the lightest in their class. That is what performance through light weight means to us."
Bahar has been replaced by 51-year-old Aslam Farikullah, one of three DRB-Hicom executives who ran Lotus during the two-week investigation of Bahar, who has been appointed chief operating officer.