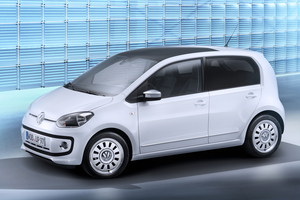 The New York motor show wasn't used not only to launch some amazing new models and concept cars but also to hand out awards to vehicles on the road.
Volkswagen's European small hatchback, the up! won World Car of the Year 2012 while Range Rover's Evoque was crowned World Design Car of the Year.
The up!, Evoque and the Citroen DS5 were the top three for the Car of the Year award, voted by 66 international motoring writers.
Although the up! was launched in December it topped new vehicle registrations in Germany.
Around the same time, Euro NCAP awarded the up! a top score of five points and also gave it an advanced award for its city emergency braking system.
On a minimal footprint (3.54m long) the up! seats four people and has efficient drive technologies.
"This award shows once again that in the up! our designers and engineers have created a vehicle that has been thought through in minute detail," said Professor Martin Winterkorn, chairman of the Volkswagen board.
The Evoque has won more than 100 awards since its launch last year. "This prestigious accolade recognises the overwhelmingly positive response that we have received to the Evoque's bold and dramatic design," said Gerry McGovern, Land Rover's design director. "It is a car that truly resonates on an emotional level."