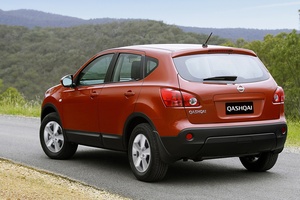 Richard, his wife and their two primary school-aged kids are getting into family camping - the only problem is their vehicles are not fit for tenting life.
First in the driveway is the 1997 Toyota Corolla that's now too small, while the 1997 Volvo V40 wagon is too expensive to maintain, Richard says.
"The Toyota is great, light to drive, fuel efficient while the Volvo is heavy but a more sensible car for everything that we want to do."
Richard wants a reliable vehicle that provides a comfortable ride and can tow a trailer.
The two brands you mention, Richard, make an interesting comparison. Your Corolla is testament to Toyota's reputation for providing low overall running costs, while safety has always been Volvo's strength and point of difference since inception in the mid-1920s.
In your case we need to look for a combo package that fits within your price range and provides the best of both worlds.
We will also stick to station wagons and a crossover as they provide a good roomy vehicle well suited to your planned outdoors lifestyle.
The budget: $25,000
The shortlist
Honda Accord
Inside and out the 2009 2.4-litre Tourer L is a very high-spec vehicle that includes built-in navigation and reversing camera on some models. Safety features include Electronic Stability Control and the all-important side curtain airbags. It may not handle as well as some European cars but for a family the need should be overall occupant comfort rather than race-car characteristics.
Hyundai i30 elite
The 2010 model is not as big as the Honda but stacked with similar safety features. Smaller engine (2-litre) will use less fuel around town but on long trips fully loaded you may lose that advantage and wish you had a little more power at your disposal. May fit the garage better if space is limited,
Nissan Qashqai
Nissan NZ market the 2WD Qashqai as a passenger vehicle rather than an SUV although it shares many of the same positive attributes such as elevated seating - great for driving and vehicle entry and exit. The Constant Variable Transmission and 2-litre engine work well together achieving a claimed low fuel use of 7.6 l/100km. The rear space may lack the depth of a station wagon but gains an advantage in overall height.
Driven recommends
The Nissan Qashqai is safe, economical, modern, uncomplicated and user-friendly.