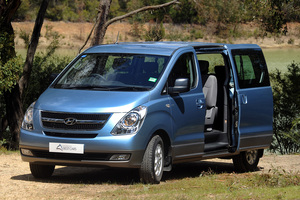 The dilemma
Business owner Raj needs a van for work and has had a Toyota Hiace for seven years but it's time for a change.
"The repair bills on the Hiace are getting expensive plus my kids are getting older so I'm using the van not only for work but for holidays," he says. Although a fan of the shape of the Hiace he's no longer a fan of sitting above the engine. "Although the box shape makes the Hiace easy to park, I want a larger bonnet that will give me protection in the case of an accident."
He's keen on a Hyundai iLoad or the Volkswagen Transporter but his local Toyota dealer has also offered him a good trade in deal.
Trade-in wise you are in a reasonably strong position Raj regardless of what you end up purchasing. Toyota gained a very healthy 27 per cent share of the new commercial market in 2012 as well as taking out the top spot for new car sales for the 25th straight year.
As the industry leader I'm sure they would be very keen to retain an existing customer (whether it be on a new or used vehicle) and offer you an attractive trade in price in an effort to keep you in the Toyota family.
On the other hand their competitors would be equally as keen to add a new customer to their database as they strive to win customers over and close the numbers gap on the market leader. It all becomes a bit of a game trying to negotiate the best change over price (rather than a trade-in price) but it often pays to shop around and push the boundaries as hard as you can.
Remember the golden rule; it's impossible to offend a car salesperson.
The budget: $45,000
Hyundai iLoad/iMax
The overall body design makes for a safe, practical and family friendly mode of transport.
The iLoad is a three-seater while the eight-seater iMax model has a second row seat configuration which folds, slides and also offers a 60/40 split seat option. Downsides for some may be the 2.5 litre diesel is only available with a six-speed manual transmission (the earlier H1 8-seater vans were fitted with 6-speed autos) while the 2.4-litre petrol variant mated to a four-speed auto may enjoy a little too much time at the gas station with a claimed fuel consumption of 11.4 l/100km. New registrations for 2012 were less than 150 for both variants which means there will be limited used options in your price range. The new prices well exceed your budget.
VW Transporter
Some VW dealers are currently advertising the Short Wheel Base 2-litre diesel five-speed manual model travelled less than 1000km for under $40,000 which includes a three-year service plan. It's pretty basic but would definitely do the job. You would need to add an additional rear seat which would be an additional cost. A quick ring around some VW dealers suggested this would add around $2500 to the total price. Once again you would have to accept the manual shifter.
Kia Carnival
The retail price (eight-seater EX) for a new Carnival sits just outside your price range (and does not include On Road Costs) however, look around for pre-registered models which may fit the budget. This is a very well spec'd vehicle in terms of safety and comfort and parking aids. Upside is a 6-speed auto while the downside is a rather thirsty 3.5litreV6 petrol engine (10.9l/100km).
Driven recommends
If you can live with a manual then the Hyundai iMax should do the multi-tasking you are looking for.