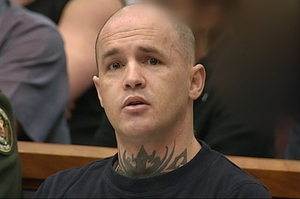 Five years after she was repeatedly raped and left for dead by Liam James Reid, a Dunedin woman says she is still not able to move on from the brutal incident.
Revelations that criminal lawyer and former Maori Party candidate Davina Murray is facing two charges relating to in-prison dealings with Reid, and that she believes him innocent of his crimes, have left his victim "absolutely shocked''.
In 2008 Reid was sentenced to preventive detention with a 26-year minimum period, which was later reduced to 23 years on appeal, for the rape and murder of Christchurch woman Emma Agnew and the rape and attempted murder of the Dunedin woman.
"This woman is obviously intelligent and highly educated, yet what grounds is she going on that he's innocent? Is she purely going by what he has said? Why does she think that and why does she think she can go and challenge what I've said, what the judge said, what witnesses said and what a jury has come to believe?
"It's still really scary that one day he could get out. There is no doubt in my mind that he did this to Emma and I. The last thing you want to read is that someone has been working for two years on an appeal,'' the woman said.
Last week, Murray lost a four-month bid for name suppression after being charged with smuggling an iPhone, cigarettes and a lighter to Reid at Mt Eden Prison in October.
She is also facing a second charge of having communication with Reid "that may prejudice the safe custody of a prisoner''.
In the nine months before her arrest, she visited him in prison 80 times and reportedly said she believed he was innocent.
She previously told the New Zealand Herald she had been working on Reid's murder appeal for the past two years.
She declined to comment yesterday.
Reid's victim said she had spent the past years moving on with her life and was "doing really well'', but was frustrated by the justice system and the support Reid received.
"I don't know how much money he has had spent on him for legal aid, but ... what's with the legal system that these guys are found guilty by a jury, unanimously, but they are then being given all of these extra chances? And what about the victims? They are getting nothing.''
In November 2007, the woman was subjected to a prolonged attack in a central Dunedin car park, during which she was strangled, punched and repeatedly raped.
One year later, Reid went to trial and in December that year was sentenced.
In July 2009, his sentence was reduced on appeal and in February this year the Supreme Court rejected a bid to have his conviction and sentence overturned.
This latest chapter left her feeling "angry''.
"You want to know what's going on but then again, it brings everything up again. It's just so frustrating. Why is it not ending?'' she asked.
She believed victims deserved more rights.
"The victim's life is dragged through hell. I don't see why victims are not given anything. All of my friends and family have had to go through this and our lives were put on hold for the trial. We don't get any chance to apply for money.
"With legal aid they [offenders] should be given one lawyer and one appeal and then that's it. There should be nothing else.
"You just want to get your voice heard and make people remember it still affects you every day of your life.''