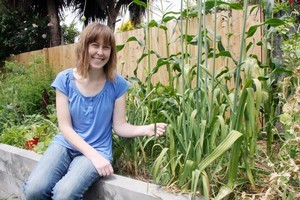 Kirsty Bryan has battled heroically for most of her life with cancerous tumours riddling her body.
Yet despite two decades of surgery that often seem to never end, the 34-year-old has managed to keep a gentle smile.
Until now.
This week, that smile became a massive grin when she learned that she was the winner of a $10,000 Christmas treat, thanks to SkyCity and in association with the Herald on Sunday.
Why? Because she was nominated and won the Give the Perfect Christmas Gift competition. The Christchurch woman, who is recovering in Christchurch Hospital after being hospitalised because of crippling pain in her pancreas, said she was "overwhelmed" when she found out about the $10,000.
The mother-of-one is no stranger to hospital.
When she was 15 she was diagnosed with Von Hippel-Lindau, a rare genetic condition that causes severe tumours to develop in the body.
She inherited the disease from her father, who died when she was 6. She has had countless operations to remove tumours from the base of her skull, pancreas, intestinal wall and spinal cord.
Kirsty was nominated by her mother, Jill Revell.
Jill said her daughter always had a positive outlook on life, despite repeated bad luck, from her diagnosis as a teenager through to the Christchurch earthquake when her house "slumped" into the ground.
SkyCity Auckland chief executive Nigel Morrison said it had been uplifting and emotional to read some of the 400 entries.
"All were deserving but Kirsty's story of courage in the face of adversity had an obvious impact on the judges. Hopefully this goes some way to help."
Kirsty plans to use the money to create a self-sustainable garden, send her husband Nick on a beekeeping course and replacing the ukulele damaged during the earthquake.