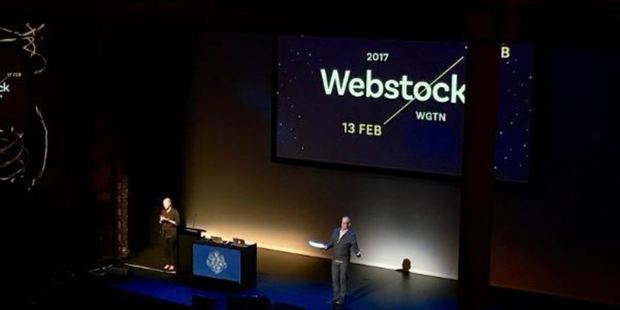 Organisers of Wellington technology conference Webstock have apologised after a speaker made the event's sign language interpreter repeatedly sign the term for a sexual act.
Webstock shared an apology on its website yesterday that explained the offensive joke.
"To begin his presentation, our last speaker of the day, Stefan Sagmeister recalled that last time he was in New Zealand he told a story about a manatee giving itself a blow job.
"This was compounded by the repetition of the term for the act, with the intent of having the sign language interpreter on stage, Jenn, sign it. Stefan then continued with his talk.
"This was completely disrespectful to Jenn in particular, and she left the auditorium shortly afterwards."
Webstock said Sagmeister's joke was "wholly unacceptable" and violated the conference's Code of Conduct.
The conference organisers apologised to the interpreter saying, "We are so sorry that this happened. It should not happen at Webstock and it should not happen anywhere, in any situation."
Sagmeister tweeted an apology yesterday.
I made a joke that was highly offensive. It was wrong & I'm deeply sorry. I sincerely apologize to NZSL interpreter, Jenn Glibert. - Stefan

— Sagmeister & Walsh (@sagmeisterwalsh) February 18, 2017
Sign language interpreter Jenn Gilbert said she accepted his apology and that his speaker's fee would be donated to Sign Language Interpreters Association of New Zealand.
Sagmeister has been in contact with me and apologised, I have accepted his apology. His speakers fee is being donated to @SLIANZ#webstock

— Jenn Gilbert (@posyjenn) February 19, 2017
The organisers of the conference said following the offensive joke there was "completely valid sense of anger and disgust in response to this incident" from the public and criticism of how Webstock handled the situation.
tbh that was super gross and shaming that Sagmeister just got the sign language woman to action blowjobs. Not ok #Webstock

— Romcom-ing of Age (@milk_island) February 17, 2017
"We did not ask Stefan to stop speaking. We will debate whether that decision was the correct one for a long time to come," the organisers said.