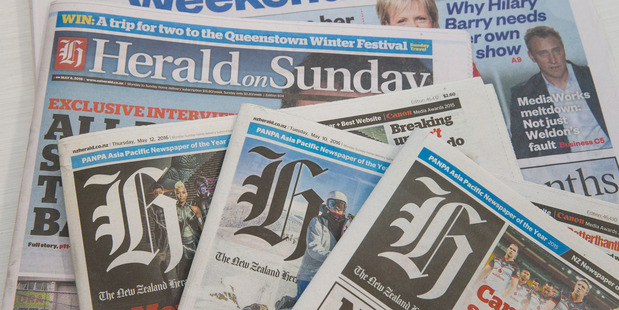 New Zealand Herald print readership is on the rise and digital audiences have hit record levels.

The Herald newspaper's average readership is up 13,000 to 426,000 readers, 3.1 per cent up from last year and a 3.6 per cent increase from the previous survey, according to Nielsen data released today. The Herald remains New Zealand's most read newspaper. With the exception of Tuesday, which remains unchanged, each day has seen year-on-year increases in readers, reflecting higher engagement with the newspaper in addition to strong population growth in the Auckland region.

nzherald.co.nz has seen a 25 per cent audience lift year on year. August was a record month for the site, reaching a unique audience of more than 1.9 million. August also saw record numbers for nzherald.co.nz sport, reaching a unique audience of more than 1.2 million off the back of Olympics coverage.

NZME managing editor Shayne Currie said increased readership in print and digital was also reflected in the newspaper's daily inserted magazines and showed the power of quality journalism and relevant, engaging and entertaining content.

"Having readership increases across the board shows the Herald's variety of content is resonating with New Zealanders. Whether they are picking up the Herald for their fashion fix in Viva, holiday tips in Travel or for their morning news and analysis, we know our team is consistently delivering quality journalism," he said.

Wednesday readership is up 28,000 to 458,000 readers, and Friday's readership has increased by 24,000 to 411,000 readers.*

Daily Brand Audience of the Herald, encompassing both print and online readers, is up 37,000 readers to an audience of 840,000.
Weekly Brand Audience saw a rise of 28,000 to 1,370,000.*

Since the previous survey, Viva, The Business and Bite have seen 3.3 per cent, 2.2 per cent and .9 per cent increases, respectively. Year-on-year growth for Canvas (1.4 per cent), Travel (2.2 per cent) and Bite (3.8 per cent) has also been achieved.

The Weekend Herald has continued to increase its readership, up 3000 readers from the previous period and up 22,000 (5 per cent) from a year ago. Its audience now sits at 445,000.

The Herald on Sunday has retained its position of best-read Sunday newspaper in New Zealand, read by 308,000 New Zealanders each week.

In regional results, Hawkes Bay Today remains unchanged at 48,000 readers and the Daily Post (Rotorua) is up 1000 to 19,000.

At a group level, NZME has seen audience growth of 15 per cent year on year, with the wider NZME News readership growing by 27 per cent.

NZME Chief Commercial Officer Laura Maxwell says the continued growth is a testament to the quality of the Herald's content. "To have an increase in readership across the week is a strong result for the Herald and I'm delighted. Together with our regional print and online titles, NZME offers advertisers a compelling and flexible package of opportunities to connect with audiences in both local regions and on a national scale."


Sources:
Nielsen CMI Q3 15 to Q2 16. AP15+
*Previous Survey: Q2 15 to Q1 16. AP15+