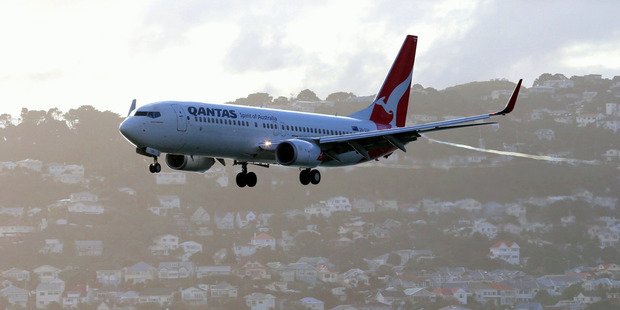 Australia's biggest airline, Qantas Airways, will resume paying dividends after a seven-year hiatus following a A$1.03 billion full-year net profit after tax, up 80 percent on the prior year and the best in its 95-year history.
The airline has returned more than A$1 billion to shareholders in the past year through share buybacks and the board has declared it will pay more than A$500 million through a 7 cents per share dividend on October 12 and a further on-market share buy-back of up to A$366 million, subject to shareholder approval.
Shareholders aren't the only ones enjoying the bonanza - the company is also paying a one-off cash bonus of A$3,000 to almost 25,000 non-executive employees providing they're covered by the 18-month pay freeze introduced under the transformation programme.
Revenue for the year ended June 30 grew 2 percent to A$16.2 billion, in line with analysts' expectations.
The profit increase follows lower fuel expenses, which are now 40 percent below that of a decade ago, and faster-than-expected returns from restructuring.
Fuel hedging saw the group generate A$664 million in benefits from lower fuel prices compared to the previous year while the transformation programme begun in 2014 has delivered A$1.66 billion in cost savings and revenue benefits, including A$557 million in the past year.
The company now expects to realise A$2.16 billion in savings and revenue benefits by June next year.
Group chief executive Alan Joyce said the restructuring had made the airline more agile and created a platform for future investment. "This is a true team performance, which shows that our strategy is the right one for the tough markets we're operating in and the long-term opportunities we see ahead of us."
All divisions reported record results, with total underlying earnings before interest and tax in the domestic market, for both Qantas and Jetstar, at a record A$820 million, up from A$191 million, and total underlying ebit for the international division of A$722 million, up A$374 million.
The turnaround has helped Qantas's cash position with $2.8 billion of operating cash flow, up 38 percent, available for the share dividends, debt repayment, and further capital expenditure.
In the past year Qantas has announced new investment in eight Boeing 787-9 Dreamliners for Qantas International and the first Dreamliner flight will be open for sale before Christmas. It is also in the final stages of considering options for extending wi-fi on regional and international flights and is talking to Cricket Australia about live-streaming cricket matches this summer on aircraft involved in the wi-fi trial.
Jetstar's underlying ebit was A$452 million, up 97 percent. It didn't break down the result for Jetstar International, which includes its New Zealand operations, though said there was a strong improvement in earnings with unit cost reductions and strong growth in core markets.
It did provide some performance metrics for Jetstar New Zealand, which competes with Air New Zealand on regional routes. Passenger numbers rose to 2.1 million, up 21 per cent, while revenue per passenger kilometres is up 15 percent.
Qantas didn't provide guidance for the next financial year though it indicated a further A$450 million in transformation benefits were expected in the coming year and capital expenditure was likely to be around A$1.5 billion.
Air New Zealand, New Zealand's biggest airline, will report its full-year results on Friday.