The original Mad Butcher store has shut down, with the outlet's liquidator attributing its demise to flaws in the chain's business model.
But NZX-listed Veritas Investments, which acquired the franchise in 2013, is placing the blame squarely on the franchisee who ran the site.
The Massey Rd store, in Mangere, went into liquidation on Friday, owing hundreds of thousands of dollars to creditors.
Sir Peter Leitch, the butchery chain's founder, opened the store - which was closed when the Herald visited yesterday - in the 1970s.
It is at least the 10th Mad Butcher store to go into liquidation since October 2012.
"Unfortunately the business model used by the [Mad Butcher] franchisor is flawed - it's unsustainable," said Peter Jollands, of liquidator Jollands Callander.
He said the Massey Rd store owed around $480,000 to creditors as of March 31 this year and failed because its revenue was not high enough to make up for low margins.
Veritas chairman Tim Cook, however, said Mangere had been one of the chain's most successful stores three years ago.
Leitch, who remains the Mad Butcher's brand ambassador, sold the Mangere store in 2013.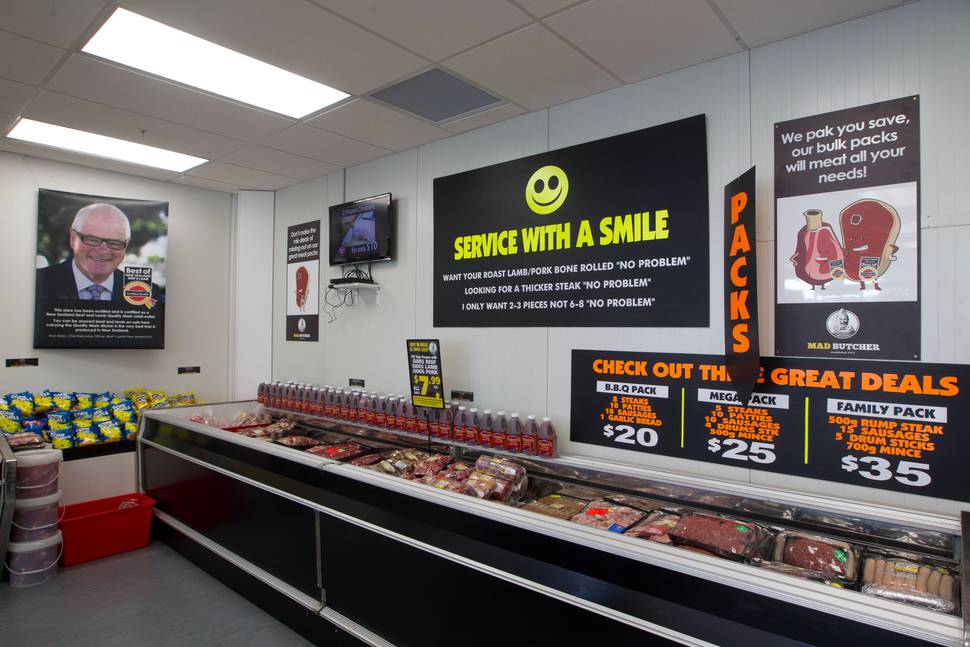 "Despite many offers to help and a rent holiday being negotiated on his behalf, the [current] franchisee has been unable to turn around a consistent slide into poor performance," Cook said.
He said the franchisee was offered a "top performing proven operator free of charge" and an advertising package to help turn the business around.
"This was rejected by the franchisee," Cook said, adding that he had been surprised by the liquidator's lack of understanding of the state of the business.
"It is a lesson for all franchisee businesses that you can't simply buy a business and expect good performance to be maintained if you are not working in and on the business."
Both Leitch and the store's franchisee declined to comment yesterday.
Mad Butcher outlets in Glenfield, Kapiti and Invercargill - all of which were owned by Veritas, rather than franchisees - have been shut down this year.
A franchisee-owned store in Mt Wellington, meanwhile, went into liquidation in March, owing $1.2 million, while a Mad Butcher "mini" concept outlet in Mosgiel closed recently after the franchisee decided he did not want to continue in the business.
A store on Christchurch's Colombo St also shut recently, which Veritas said was the result of earthquake damage.
In April Veritas said its three divisions - Mad Butcher, Nosh and the Better Bar Co - were showing signs of improvement and underlying full-year profit was expected to be between $3 million and $3.5 million.
Veritas shares, which have fallen 35 per cent over the past year, closed up 2c at 44c last night.