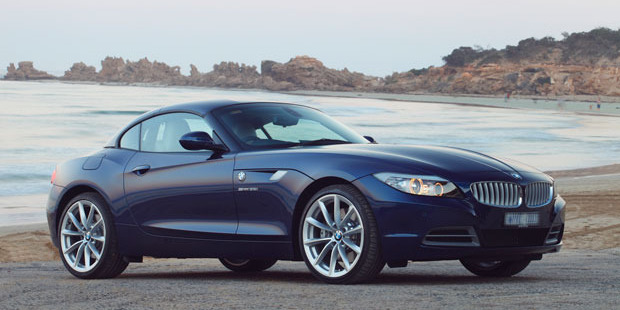 The case of a car dealer who sold a BMW sports car with a fake registration and a wound-back odometer shows there are "serious systemic failures" in the car import system, the industry regulator says.
In 2014, a man paid $49,300 for a BMW Z4 that the Auckland car trader said was a 2013-model Japanese import with an odometer reading of 14,539km.
Four months later, the buyer discovered that the vehicle had been manufactured in Germany in December 2009 and first registered in Britain the same month.
HAS THIS HAPPENED TO YOU? EMAIL US HERE.
It was shipped to Japan and reregistered there in April 2013 and almost immediately shipped to New Zealand to be sold.
The local BMW agents also found that the vehicle's true recorded mileage was 32,278km - more than double that represented by the trader.
The Motor Vehicle Disputes Tribunal found the purchaser had been misled and ordered the trader to pay him $12,000 in damages.
The case could be symptomatic of a wider issue. It is understood the tribunal has not dealt with a case like this before - but industry analyst Clive Matthew-Wilson says that is because most dealers hand out refunds in order to avoid exposure.
In an annual report, tribunal adjudicator Chris Cornwell said: "The concerning aspect of this application is that it appears that there is a serious systemic failure in our motor vehicle importation system by which a car first registered in the UK can be shipped to Japan, reregistered in Japan, and then imported into New Zealand with the ... New Zealand Transport Agency allowing the vehicle to be registered with a registration date based on the date of registration in Japan, and apparently without any investigation as to the vehicle's previous history.
"Prospective buyers of used European cars sourced from Japan are advised, before agreeing to buy the vehicle, to have its history checked by a franchise dealer for the European brand agent to verify the vehicle's build date, date and place of registration, and its recorded repair history."
Odometer inspections involve mechanics removing and inspecting the odometer for signs of tampering, and examining all available service records to ensure that they match the car's stated odometer reading.
For around $130 including GST, they will also check the car's history and compare it with all other information about the vehicle.
An NZTA spokesman said when imported vehicles were presented for entry certification, the importer must provide evidence of the date of the vehicle's first registration.
"The onus is on the importer to provide the correct information, and it is an offence to knowingly provide false information.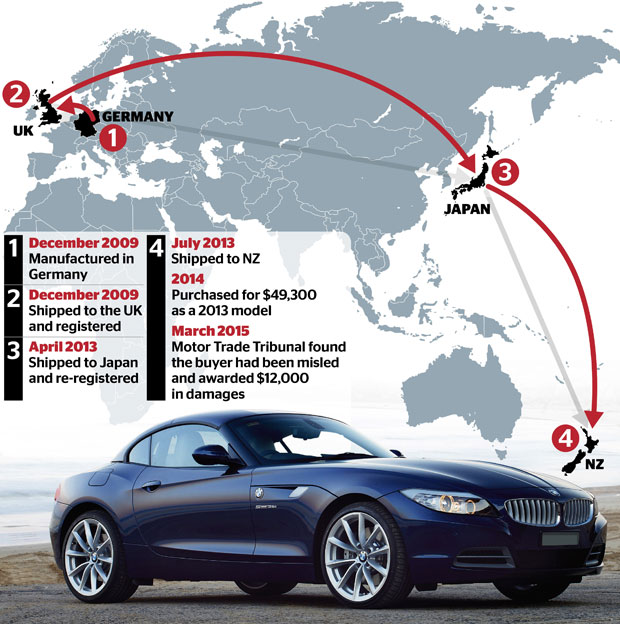 "Where the year of first registration is genuinely unavailable, as an alternative the year of manufacture or the model year can be entered. In such cases, the Vehicle Identification Number (VIN) can be used to consult with the vehicle manufacturer to determine the year of manufacture or model year.
"This process is very time-consuming and it would not be practical to require every imported vehicle to be checked in this manner."
A spokesman for the trader, JP Autos of Eden Tce, said they were also victims, as there was no indication of wrongdoing when they shipped the car from Japan.
"All the documents that came from Japan with the car were legal and were certified by the NZTA.
"We were shocked and disappointed when we learned that we would have to pay out $12,000. We are victims too, because to the best of our knowledge the documents were legal and no one said otherwise.
"We are currently talking to our supplier in Japan to get some answers because this is not right."
Mr Matthew-Wilson, editor of the car review website dogandlemon. com, said odometer tampering was not as common as it used to be.
"Twenty years ago, a large percentage of Japanese used imports had their odometers wound back and all the dealers knew it. The only reason it doesn't happen as often these days is the high risk of being caught."
additional reporting: Ben Hill