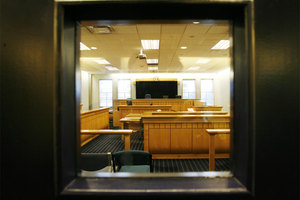 An Auckland lawyer who admitted stealing almost $300,000 from three clients has been jailed for two and a half years.
Richard Kristian Henry Holland, in his late 50s, pleaded guilty to three charges of theft in June and appeared today in the Auckland District Court for sentencing.
The principal at Remuera law firm earlier this year pleaded guilty to a charge of theft of $200,000 from a client and friend between August 2010 and March 2013.
He also admitted two further charges of theft of about $95,000 through dealing with money contrary to instructions from a Law Society inspector.
These arose over Holland taking fees from money held in his trust account.
Holland's lawyer Fletcher Pilditch said today the former solicitor had stolen money from three of his clients and put the quantum of the offending at "just shy" of $300,000.
"He does not shirk in any way from the utter and gross abuse of trust that represents," Pilditch told Judge David Sharp.
Pilditch said Holland felt "enduring regret and shame" that he had hurt his former clients, family, friends, colleagues and had "damaged his profession".
"The weight he bears from that shame is a grim and daily reality for him," Pilditch said.
While some of the almost $300,000 taken could represent fees, Holland did not seek to reduce that figure.
Pilditch said the Holland had operated a small practice, which was not a significant source of income for him and his family.
Holland entered into a period of financial difficulties and was the type of person who shoulders the weight of such a burden internally without seeking help, Pilditch said.
Holland had also maintained the belief that he may be able to repay the funds when his financial situation had improved.
The defence lawyer told the court that the risk of Holland reoffending was low and that he had a good prospect of rehabilitation.
Once the offending was detected, Pilditch said Holland had made a "full and frank" confession and admitted his guilt at the earliest opportunity.
Holland was not in a position to make a reparation, Pilditch said.
Pilditch said that home detention was appropriate for his client, depending if the judge's final sentence reached the relevant threshold for this to be an option.

"Imprisonment would be a relatively crushing sentence for this defendant," the defence lawyer told the judge.
Judge Sharp, in sentencing Holland this afternoon, said he accepted the offending happened in circumstances of "genuine financial need".
Holland didn't take the funds to finance a luxurious lifestyle or for purposes of greed, Judge Sharp said.
But the judge said an experienced solicitor who steals funds could not suggest financial naivety.
He described Holland's actions as a "gross abuse a high degree of trust" that called for deterance.
Judge Sharp took a sentencing starting point of three years, six months' jail.
He added six months to that sentence because Holland had tried to get a client to sign a false loan document in an attempt to secure a defence.
The judge however gave Holland a discount for his early guilty plea and assistance to authorities.
Judge Sharp accepted Holland's remorse was genuine and gave him further credit for that and his previous good character.
A further discount was given because of Holland's age and because he had suffered from depression, which would make the sentence imposed more difficult than it otherwise would have been.
The final sentence was 2 years, 6 months' jail, which meant home detention could not be considered.
Earlier this year Holland was struck off as a lawyer by the New Zealand Lawyers and Conveyancers Tribunal for "misappropriating" client funds