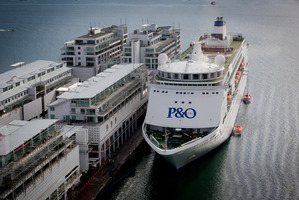 New Zealand needs to be competitive to continue attracting cruise ship seasons worth more than $365 million, according to the national voice in the sector.
Cruise New Zealand manager Raewyn Tan said New Zealand port and fuels fees were some of the highest in the world.
Cruise ships were the fastest growing tourism sector in the world and New Zealand had the largest season ever in terms of visitors in 2012/2013, with over 211,000 visitors, and the largest in economic value in 2013/2014 with $365.3m spent, Ms Tan said.
Levies and port costs could be off-putting for cruise lines as the sector grew, she said.
Maritime New Zealand, some regional councils and the ports all charge for the cruises.
"That has the potential of dis-incentivising cruise lines adding New Zealand ports to an itinerary because the more ports you add the more costs you incur."
The cost of fuel in New Zealand could also be a barrier, she said.
The majority of cruises come from Australia. The two days it takes to cross the Tasman and come to New Zealand uses up a lot of fuel, and Ms Tan said that could be costly for the cruise lines.
However, the 2015/2016 cruise season looks like it could be the biggest season ever, she said.
"We're at a tipping point now where the cruises are getting bigger."
Cruise ships with a capacity of 4000 passengers are being rolled out and could be bound for our ports within five years - if we had the wharves big enough for them, Ms Tan said.
Currently the Dawn Princess, with a 1900 passenger capacity, is the most frequent cruise ship in New Zealand's ports.
Most passengers on cruises do a half-day tour from the port they are in, organised on-board, return to the cruise for lunch then venture out on their own, browsing shops and visiting attractions, Ms Tan said.
Ports of Auckland spokesman Matt Ball said the port fee and a Maritime New Zealand levy were the only charges for cruises coming in to Auckland.
Mr Ball said Ports of Auckland was preparing for cruise ships to get bigger, and had recently acquired a new tug boat that would be suitable for the next generation of cruises.
Cruise ships were getting as long as 340 metres, Mr Bell said.
"Currently none of our cruise berths can take the longer ships."
Ports of Auckland was looking at options for a wharf extension, Mr Ball said.
"We are making significant investments and it is reasonable for us to charge for that investment."
The next cruise ship to arrive in Auckland is the Dawn Princess from Pago Pago on August 27, before it moves on to Sydney.
No cruise ships will arrive in Auckland in September, however in October five cruise ships will arrive in Auckland from Brisbane, Bora Bora and Melbourne, and will then continue to Tauranga or the Bay of Islands.
Cruise ships in NZ
- 211,430 passengers visited New Zealand on cruise ships in the 2012/2013 season.
- $365.3 million was brought into New Zealand through cruise ships in 2013/2014 season.
- 27 cruise ships will arrive in New Zealand in December and January.
- APNZ