Improved use of technology and more-polished websites helping businesses combat threat of 'showrooming'.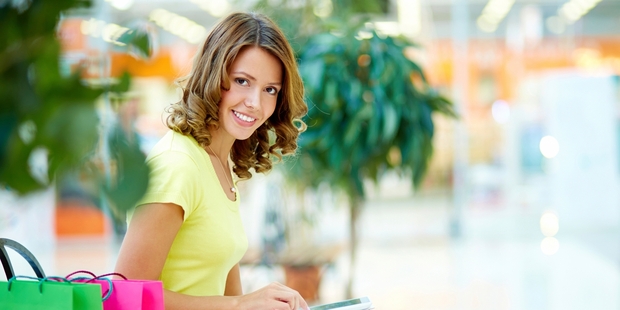 Retailers adapting to the changing habits of shoppers are using their own websites to combat "showrooming" - where consumers check out products in stores and then buy them online.
Julie Barbour, owner of Hamilton fashion boutique Sisters on London, said the growth of online sales meant its website was now competing with the physical store.
Many of her customers tried on clothes in-store but preferred to complete the transaction online when it suited them.
"It may be at home at 10 o'clock on a Friday night, or it may be on the day they get paid."
Ms Barbour said she had been a victim of showrooming - where a customer tried on a pair of jeans before buying the product elsewhere. But she countered the trend by strengthening relationships with the customer which, in turn, fosters loyalty and return business.
This included active Facebook, email and Instagram marketing.
Auckland's Heart of the City chief executive Alex Swney, who with his wife owns the Briarwood fashion accessory store chain, said compared with their six retail outlets, the online shop was "one of the better stores".
He said online shopping - as long as the sale was done on the store's own website - went hand-in-hand with visiting physical shops. "At the end of the day it is coming from the same place."
A good website complementing the store offering was "mandatory", Mr Swney said.
Newmarket Business Association chief executive Mark Knoff-Thomas said although some retailers were doing websites well, "you can never replace the emotional experience of going into a store, touching fabrics, looking in the mirror and trying something on".
NZ Retailers Association chief Mark Johnston said customers had more information than ever before in a competitive retail landscape.
The Warehouse and other large retailers now provide online offerings such as "click and collect," where the customer pays for an item online, then picks it up when it suits.
The Warehouse said "click and collect" sales grew to 13 per cent of total online sales two weeks after being introduced last October.
"Online sales continue to grow as customers increasingly shop online and we are seeing sales growth across all 91 The Warehouse stores," said the company's executive general manager of digital marketing, Michelle Anderson.
Massey University retailing academic Dr Andrew Murphy likens the service to the convenience of drive-through fast food. "Click and collect works well internationally where you've got a dock or somewhere that customers can just drive up to, pick up their groceries, and off they go."
He predicts a decline in store numbers over time and an increase in distribution centres.
The Retail Association is also predicting change in the way we shop with the growth in "mobile wallets" - which allow shoppers to see and touch products in store and instantly complete the purchase on their mobile device.
Mr Johnston said mobile wallet technology was being refined by the major credit card companies Visa and MasterCard.
It meant online retailing and traditional retailing being drawn together.
"Things are coming together again," Mr Johnston says.
The shopper
Kaaro Iti-Moeke says she saved $174 buying shoes online.
The 38-year-old Hamilton mum needed a new pair of sports shoes for a triathlon she is training for in November.
A friend suggested she visit a sports shoe shop to get fitted for a pair, and then see what she could find on the internet. She did just that.
"I went in there and they get you on the treadmill and analyse your running style. They were really helpful."
Shoe Clinic recommended a $299 pair of Asics running shoes, which were perfect for her flat and wide feet.
She went home and found the same pair of Asics shoes online for $125, including delivery, from the online retail store Amazon.
"I was stoked. A lot of people just can't afford to spend 300 bucks on a pair of shoes."
She admits to feeling "a bit stink" not buying from the store, but said Shoe Clinic staff didn't complain.
"They said it happens all the time."
High childcare costs meant saving money was a big factor in her shopping decisions.
The store owner
Ed Connolly sees it all the time - people coming in to get fitted for shoes, then buying them online.
"We are not overly worried by it, frankly," says Mr Connolly, the owner of seven Athlete's Foot stores, and New Zealand master franchisee.
"We see our purpose as providing absolute customer satisfaction and if that means we fit them for a website order or another retailer, then so be it."
Mr Connolly, who works from his base in Hawkes Bay, says the primary reason people buy shoes from Athlete's Foot is for the service.
And many people just don't like buying online, he says. "There are a lot of fake products online ... It is not just fake shoes, it is fake golf clubs, it is fake everything online. You have to be very careful."
He recalls the navy sending staff into his Albany store to get fitted for shoes, which were then bought through another supplier. He hoped those people would remember the good service and come back.
"One option is to charge for a fitting fee and refund it off the purchase, but that is just not part of our philosophy and culture."
Retail trends
*Showrooming: Checking out a product in a "bricks and mortar" retail store, then going home and buying online, often at a cheaper price.
*Webrooming: Doing internet research at home, then going into a store to make a purchase.
*Click and collect: Purchasing online then picking up from a store at a time when it suits the customer.
*Mobile wallet: Using a smartphone or tablet to instantly pay for an item from the shop floor.