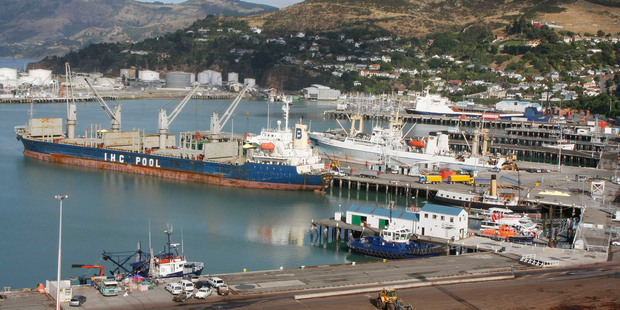 Lyttelton Port shareholders are demanding that the NZX reverse trades made in the port operator's shares on Friday afternoon after the sharemarket operator failed to halt trading in the stock following the emergence of a takeover bid.
The details of council-owned Christchurch City Holdings' takeover offer for the Canterbury port were buried in a substantial security holder (SSH) notice published by Lyttelton Port shareholder Port Otago at 2.24 pm.
Christchurch City Holdings already owns almost 80 per cent of Lyttelton Port and has entered a "lock-up" agreement with Port Otago, a 15.5 per cent shareholder, for its full takeover bid for Lyttelton Port at $3.95 a share.
Shares traded at between $3.30 and $3.59 - with their owners unaware of the even higher takeover price - before the NZX finally put a trading halt on the stock at 2.57pm.
They closed at $4.10 on Friday.
Lyttelton Port shareholder Mike Daniel, the former chairman of Northland's Northport, said "mum and dad" investors' shares were "hoovered up" and it wasn't until he telephoned the NZX that trading was halted.
The normal process with takeover offers is for a trading halt to be put in place before details of a takeover are provided to the market.
In an email to Daniel, NZX head of regulation Robyn Dey said the exchange operator had received a number of requests to cancel trades made between the release of the SSH notice and the beginning of the trading halt.
She said the SSH notice had been received by email and reviewed by NZX "in accordance with the usual process".
"NZX had not identified that the release contained information that would affect the price of securities," Dey said. "If NZX had identified that the notice included price sensitive information, then the security would have been placed in trading halt prior to release. NZX uses its best endeavours to identify price sensitive information in announcements and does not guarantee that a trading halt will be put in place prior to release of every announcement received that contains price sensitive information."
See the SSH that prompted the dispute here:

Dey said the exchange operator could only cancel trades if an "error" had occurred as defined by the NZX participant rules.
"In this case there was no error as defined in the rules," she said. "For this reason, NZX will not action the requests to cancel."
Daniel said a conversation he had with NZX chief executive Tim Bennett left him "with the impression that it was too late on a Friday afternoon to be worried about fixing a cock-up".
The NZX was unable to immediately respond to a request for further comment.