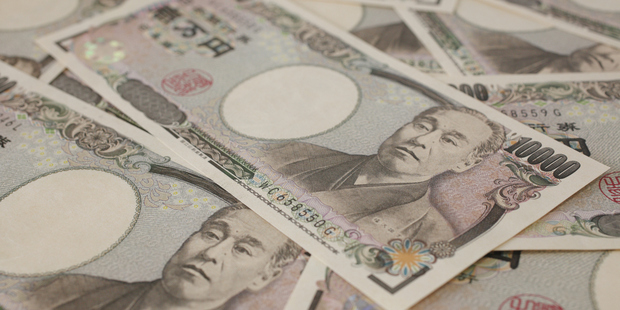 The Japanese consumer lender at the centre of a scandal over loans to gangsters that engulfed Mizuho Financial Group sold debt at about a fifth of the premium global companies pay, as investors search for yield.
Orient, an affiliate of Mizuho, offered 10 billion yen ($98 million) of five-year notes at 18 basis points over yen swaps earlier this month, in its first public straight bond. That compared with the average spread of 11 basis points for Japanese company debt and 98 for global corporates, according to Bank of America Merill Lynch data.
Unprecedented Bank of Japan stimulus has cut local corporate bond spreads to a seven-year low, prompting investors to seek riskier debt to boost returns. Two top executives at Mizuho resigned posts this year after Japan's second-biggest bank by assets was penalised twice in 2013 for loans via Orient to organised-crime groups known as the yakuza. The scandal led to revelations of more lending to gangsters in the financial industry, prompting the nation's regulator to expand its probe.
"In this environment of unprecedented low interest rates, there are few places to invest," said Takayuki Atake, an analyst in Tokyo at SMBC Nikko Securities. "Financial institutions are having to invest in securities since their lending isn't increasing, so they're taking a degree of risk."
Investors are buying bonds from issuers with higher spreads such as Orient and Hikari Tsushin even after concerns in the past about their ability to honour debts, Atake said.
First bonds
Daisuke Muraoka, a spokesman at Orient, said the company decided to sell the bond to local institutional investors given favourable market conditions and increased demand for loans. The company has registered to sell as much as 200 billion yen of notes to February 2016.
Mizuho Securities and Nomura Securities co-managed Orient's bond sale. The anti-social lending didn't have any notable impact on the offering, Muraoka said, citing information from the managers.
Read also:
• Japan's $212 billion pachinko pastime
• Do today's junk bonds deserve a nicer name?
Orient, known by its brand name Orico locally, is rated BBB+ by Japan's Rating & Investment Information, the equivalent of its third-lowest investment grade. The provider of auto and credit card loans, bailed out by Mizuho in 2003 and 2007, was rated B+ in 2002, the fourth-highest junk score.
"Orico's ability to absorb costs with basic profits is not as high as the rating suggests, but it is improving," R&I said in a statement on July 18. The rating incorporates "credit enhancement" by Mizuho and Orico's importance to the banking group, according to the statement.
Hikari Tsushin
Hikari Tsushin, a provider of mobile communication services rated one level lower than Orient by R&I, issued 10 billion yen in three-year notes in March at 109 basis points over yen swaps.
Orient's five-year bonds sold at 4 basis points more than what Acom, a consumer finance unit of Mitsubishi UFJ Financial Group, paid to issue debt of similar maturity on May 30. Acom offered 16 times more to sell shorter-term notes in February 2012.
Mizuho's Yasuhiro Sato resigned this year as chief executive officer of Mizuho Bank while remaining as group head, after Japan's Financial Services Agency on December 26 ordered the bank to suspend new transactions through consumer credit affiliates for a month. Takashi Tsukamoto, the chairman of the lender, also stepped down.
Yakuza transactions
Japanese regulators ordered a second round of penalties against the bank after it failed to stop 200 million yen in credit extended to members of criminal syndicates and then filed an incorrect report on the matter. Mizuho submitted a business improvement plan to the regulator on January 17, outlining steps to strengthen governance toward eliminating "transactions with anti-social elements."
Other financial institutions including Mitsubishi UFJ's consumer finance unit Acom, affiliate Jaccs and Shinsei Bank later said they had discovered transactions with so-called anti-social groups. Japan's financial regulator extended inspections to Mitsubishi UFJ and Sumitomo Mitsui Financial Group in November after finding Mizuho had failed to end loans to gangsters.
A crackdown by authorities has cut the ranks of the yakuza. Membership dropped 7.3 per cent last year to 58,600, after a 10 per cent decline in 2012, according to Japan's National Police Agency data. Police arrested almost 23,000 gang members in 2013 for crimes such as drug violations and theft, according to the agency's website.
Borrowing costs
The BOJ's about 7 trillion yen in monthly debt-buying has pulled down borrowing costs. The average extra yield on Japanese corporate bonds over sovereign debt dropped to 21 basis points this month, or 0.21 percentage point, the least since 2007, according to Bank of America Merrill Lynch data.
Mizuho has about a 23 per cent stake in Orient, while trading company Itochu holds 26 per cent of the lender, according to data compiled by Bloomberg.
"There can't be many investors that like Orico, with the anti-social lending issues and the black-box element of the consumer lending business," said Mana Nakazora, the chief credit strategist at BNP Paribas in Tokyo. "It's a credit bubble and this is an issuers' market."
- Bloomberg