Bids for Turners Auctions and Acurity Health could signal new run of acquisitions: analysts.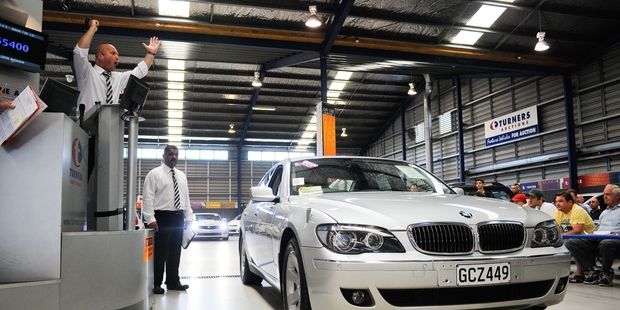 The takeover bids launched for two NZX-listed firms yesterday could signal a new phase of heightened acquisition activity on the local sharemarket as companies take advantage of relatively low interest rates to fund business purchases and increase revenue, say analysts.
Financial services provider Dorchester Pacific is planning a full takeover of Auckland car seller Turners Auctions, while the three biggest shareholders in private hospital operator Acurity Health Group have launched a cash bid for the 29 per cent they do not already own.
Craigs Investment Partners head of private wealth research Mark Lister said many companies had made good progress recovering from the global financial crisis and had reached a point where expanding revenue through their existing business was becoming more difficult. Takeovers offered a means to keep growing.
"Many of these businesses are well capitalised, with low debt levels, so there's the balance sheet capacity out there for businesses to take [acquisition] opportunities and also you're starting to see boards and management teams getting a bit more confident that the economy, globally, is on a firmer footing," Lister said.
"Over the next year I think we'll see more mergers and acquisitions activity."
While much of that activity would probably take place overseas, he said there was potential for more takeovers of NZX-listed firms, particularly at the smaller end of the market.
There have been relatively few acquisitions of locally listed firms recently. Fisher & Paykel Appliances was taken over by Chinese whiteware giant Haier in 2012, and this month the board of ASX- and NZX-listed food manufacturer Goodman Fielder supported a takeover proposal by Singapore's Wilmar International and Hong Kong's First Pacific.
Daniel Metcalfe, senior client adviser at sharebrokers OMF, said companies were making use of low interest rates to add value to their businesses through acquisitions.
While interest rates have increased this year, they remain below the historic average.
"Within the limited offerings that we have in New Zealand there are still companies that do offer some quite good value [to acquirers]," Metcalfe said.
Salt Funds Management managing director Paul Harrison, whose firm holds shares in Acurity and Turners, said a number of firms at the smaller end of the sharemarket were undervalued and could be takeover targets.
Read more:
*Dorchester unveils Turners Auction takeover
*Turners Auctions shares at eight-year high as profit rises
Using relatively cheap funding to make acquisitions and increase revenue made economic sense.
Dorchester plans to offer Turners' investors $3 a share in cash. The company said it could also offer interest-bearing convertible notes, Dorchester shares or a combination of notes, shares and cash.
Dorchester said it would also require Turners to pay a fully imputed special dividend of 15c a share once it had acceptances that would give the acquiring firm a more than 50 per cent shareholding in the company.
The $3 offer price represents a 9.1 per cent premium to the $2.75 Turners shares - which closed up 10.9 per cent at $3.05 last night - were trading at before the takeover bid was announced. Dorchester shares closed up 6.8 per cent at 23.5c last night.
Dorchester holds 19.85 per cent of Turners shares and Bartel Holdings, which owns 20.8 per cent of the auction firm, has agreed to accept the financial services company's offer. Bartel and Dorchester collectively own 40.65 per cent of Turners.
Dorchester chief executive Paul Byrnes said there was a "natural synergy" between its business and Turners.
"Seventy per cent of our finance lending is for motor vehicles and our insurance business has a focus on motor vehicle-related insurance products," Byrnes said.
Connor Healthcare - a firm established by Acurity's principal shareholders the Stewart family, Royston Hospital Trust Board, and Evolution Healthcare - is offering $6.50 a share for the remaining shares in the company that operates three private hospitals in Wellington and Hastings.
The offer represents a 24 per cent premium to Acurity's $5.25 closing price on Friday. Acurity shares closed up 23.5 per cent at $6.58 last night.
Harrison said the Acurity offer could be a "done deal", but Dorchester's bid for Turners appeared "a little cheap".
"We'd like to see them up the bid, but that's coming from someone who owns [the stock]," he said.
Byrnes said the effective takeover price of $3.15 a share - including the 15c special dividend - was a good outcome for Turners shareholders.
Dorchester Pacific for Turners Auctions
*Offer price $3, plus a special dividend of 15c a share.
*Friday closing price $2.75.
*Offer value $82.1m.
*Conditional only on achieving at least 50.1 per cent control required under the Takeovers Code.
*Offer value does not include special dividend.
Connor Healthcare for Acurity Health Group
*Offer price $6.50.
*Friday closing price $5.25.
*Offer value $112.2m.
*Must receive 90 per cent shareholder acceptances and Overseas Investment Office approval.