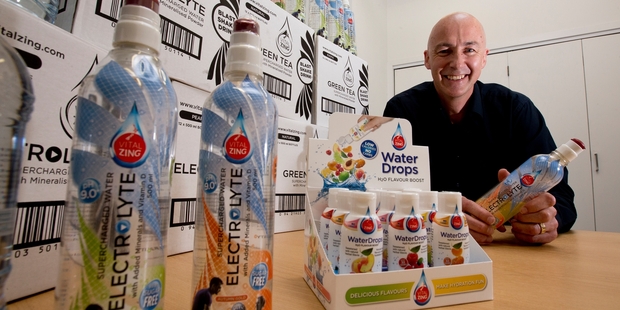 Seven years ago on the day that Alister Gates met his future wife, fizzy drink in hand, one of the first things she said to him was, "You're not going to drink that, are you?"
Intolerant to sugar, Gates' wife had spent years studying product labels and trying to eat sugar-free.
Gates quickly became a convert.
"Like the majority of people, I didn't even think about sugar content, but everything you buy in the supermarket has sugar added to it in some way. It's incredible," he said.
After studying the amount of sugar in bottled drinks, in everything from fizzy drinks to flavoured water and iced teas, Gates decided there was a market for healthy, sugar-free products that still tasted good.
Two years on and the Auckland-based firm he co-founded and is chief executive of, VitalZing, has a range of drink products - all sugar-free.
"I've just got a passion for health. A passion for really living life healthily and being conscious of what you're putting into your body," Gates said.
The drink range, which includes electrolyte, green tea, vitamin water and collagen drinks as well as concentrated flavour drops for water, uses a hermetically sealed cap from US company BlastMax.
The cap holds the vitamins and Stevia - made from the leaves of the Stevia herb which acts as a natural sweetener. The sealed caps can be pushed down to release the product into the water. Gates said that in water, beneficial ingredients such as vitamins and probiotics break down very quickly, which requires a lot of preservatives.
The dosing cap removed the need for additives and preservatives as it was sealed until the beverage was ready to be drunk.
Gates said he was aiming to change the culture of having added sugar in products.
The dosing cap technology was being looked at by several major players in the drinks industry.
"I think that we're going to see in the next 12 to 18 months a big shift to this new kind of technology, and I'm talking to the world's largest companies who are going to have dosing cap technology."
VitalZing's product range would be launched around the food show next month, and Gates said he was working on a number of new products to add to the range, including sugar-free bars and powders.