Hostile takeover by Fox on the cards after rival firm Time Warner rejects $92b offer
Rupert Murdoch is bidding to create by far the world's largest film and television company with an attempted takeover of Time Warner that would mark a high point in a deal-making career spanning more than 60 years.
Time Warner confirmed yesterday that Murdoch's entertainment holding company, 21st Century Fox, last month offered US$80 billion ($92 billion) in a mixture of cash and stock to acquire the rival company.
News of the bid - which represented a 22 per cent premium on Time Warner's closing share price on Wednesday - broke in New York before the market opened, and sent shares in the takeover target up more than 15 per cent.
But the scene is now set for a hostile takeover battle after Time Warner rejected Fox's firm proposal this month and ruled out negotiations.
It is understood the 83-year-old mogul and his lieutenants remain determined to complete what would be the second biggest media deal in corporate history and create a hugely powerful content owner.
Sources say they believe that with revenues of US$65 billion the combined company would be better able to stand toe-to-toe in distribution talks with tech giants such as Apple and Google, and with rapidly consolidating cable and satellite distributors.
The premium already offered by 21st Century Fox, and Time Warner's emphatic rejection of the bid, makes it unlikely the Murdoch camp will come back with a much better offer, sources say. Instead it is thought Murdoch could launch a proxy battle by convincing major Time Warner shareholders they would be better off if the company accepted the bid.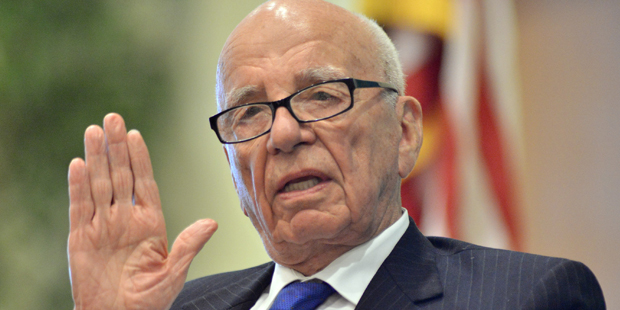 Rupert Murdoch
It emerged that Time Warner, which owns the film studio Warner Brothers and the pay-TV channel HBO, had rebuffed Murdoch's proposal in secret.
Jeff Bewkes, Time Warner's chief executive, said: "Continuing to execute our strategic plan and our business plans will create significantly more value for our business and shareholders, and [is] ... superior to any proposal that Fox is in a position to offer."
On top of its belief in its value as an independent media company, Time Warner said it had concerns that Fox would not be able to properly manage the size and scale of the combination that would be created.
Watch: Time Warner Rejects Murdoch's Takeover Bid
It also noted the Fox shares offered as part of the bid were non-voting, meaning the Murdoch family, which owns Fox voting shares, would control the merged company.
The two-tier share structure has been controversial as non-voting shareholders have questioned decisions such as the appointments of Murdoch's sons James and Lachlan to senior executive positions.
In contrast, Time Warner has no controlling shareholder.
"There is significant risk and uncertainty as to the valuation of Twenty-First Century Fox's non-voting stock," Time Warner said.
The bid included proposals to sell off news channel CNN.