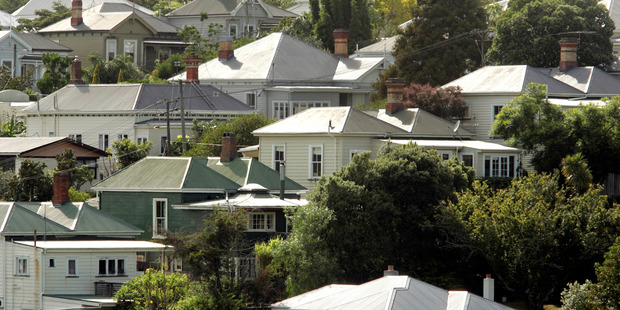 A perfect storm of interest rate hikes, lending restrictions and inclement weather is being blamed for a slump in house sales.
Volumes and loan approvals are down 15 to 20 per cent on last year, according to QV data out yesterday.
Andrea Rush, QV spokesperson, said the decline had hit new and existing loan approvals nationally and economists watched these trends closely.
Bruce Patten, mortgage adviser with LoanMarket in Highland Park, also noticed the change but thinks it might not last.
"This last month has been considerably quieter than any time in the last 18 months. The loan-to-value ratios are biting, interest rates going up are having an impact and there's the election. We're seeing a more traditional winter, wet and cold. People just don't go wandering into an open home because it's sunny and fall in love with it because it's sunny," Mr Patten said.
But he thinks spring will mark a resurgence, with warmer weather, the election over and interest rate rises paused.
Shamubeel Eaqub, NZIER chief economist, said volumes were one of the most important housing market indicators. A decline in volumes usually happens slightly ahead of prices changing, he said.
Bruce Wiggins, QV valuer, said three Auckland areas showed less spectacular value rises. "We are seeing a gradual reduction in the rate of growth in property values in some areas and more sellers opting to put on an asking price or sell by negotiation.
"The gradual reduction in growth is particularly noticeable in hot spots such as Waitakere, which was up more than 17 per cent year-on-year a few months ago and is now showing a 15.2 per cent increase year-on-year, and Papakura, where values are also flattening off," he said.
"Within Flat Bush, there appears to be a flattening of prices in recent times.
"This may be due to a number of builders/developers who bought land on terms at around the same time completing construction with the new builds appearing on the market at similar times.
"This can create an over-supply and may affect values somewhat there," Wiggins said.
Overall, QV found Auckland values were still rising, up 2.7 per cent over the past three months and 12.3 per cent year-on-year. Manukau East is up the most with values increasing 4.3 per cent over the past three months, followed by the North Shore's North Harbour where values have risen 4 per cent. In Waitakere City, values rose 2.3 per cent over the same period, QV reported.
Wiggins said land-banking remained popular in northwest Auckland where there were a number of new subdivisions being undertaken and more were planned. Auctions also remained popular in expensive areas or where there were special characteristics, Wiggins said.
National residential property values rose 8 per cent in the June year, and 2.1 per cent over the past three months. This meant they were now 15 per cent above the previous peak of late 2007. When adjusted for inflation the nationwide annual increase dropped slightly to 6.3 per cent and values remained below the 2007 peak by 1.3 per cent, QV reported.
Values in Wellington and Dunedin showed a downward trend this month.
Barfoot & Thompson data out last week showed average sale prices up $11,088 in June - which equates to a daily price rise of $369.60.
Property prices in city's northwest surge as area takes shape
The value of a West Harbour house has shot up by $293,000 in just 15 months, its owner says, but that is more illustrative of big changes around his area rather than across the Auckland market.
Grant Bacon of Matisse Dr, off Luckens Rd, said he had done nothing to enhance it, so was surprised at the Harcourts market appraisal.
He lives there with his wife and 11-month-old child and reckons the city's northwest is humming, yet many Aucklanders are unaware.
"We paid $827,000 for our five-bedroom, three-bathroom brick house with great harbour views in only April last year," he said, telling how a new valuation showed it was worth $1.12 million "and we haven't really done anything to it".
Auckland Council's July 1, 2011 valuation showed his house on a 706sq m site was valued at $690,000 and rates of $2524.11 are payable.
However, new valuations are now being carried out across the region so from next July 1, he will get a higher valuation but also a higher rates bill.
Mr Bacon said Auckland's northwest was changing fast.
"There is so much happening in West Harbour, Hobsonville, Whenuapai and the Westgate areas but it doesn't seem to get much press," he said.
Mr Bacon cited expansion of Westgate, with a new $160 million 3.4ha mall. DNZ Property Fund has already started ground works there.
A new supermarket, bulk retail and DIY shops are rising alongside the existing retail centre, developed by NZ Retail Property Group.
"The new Westgate town centre is rising from the ground with the new mall complex started," Mr Bacon said.
Further north, many new buildings and housing estates are rising.
"The Countdown shopping centre development has started at Hobsonville. The light commercial development in Hobsonville Rd has also started and Hobsonville Point is changing every week with the new Hobsonville Point secondary school recently being opened and an apartment complex being started among the massive amount of recently completed housing."
Good conditions on State Highway 18 - the upgraded Upper Harbour Motorway - meant people who lived in the area faced only a 10-minute trip to Albany in good traffic, he estimated.
"The motorway to the North Shore has meant Albany is only 10 minutes away and with the Waterview Airport Motorway Tunnel ... it will mean the commute to the airport is substantially less once completed in 2016."
Read the full QV release here: