Whey could be supplied to NZ company for use in infant milk formula destined for China and other markets.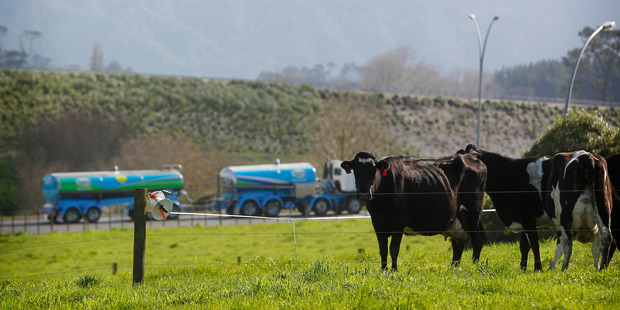 Speculation is mounting that Fonterra is on the verge of securing a profit-sharing agreement with a British dairy producer that will involve the New Zealand milk giant sourcing whey - a byproduct of the cheese-making process - from the United Kingdom for use in infant formula destined for major markets including China.
Citing unnamed sources close to the talks, Britain's Sky News reported that the arrangement could be announced this week and was potentially of "enormous significance" to Surrey-based Dairy Crest, whose brands include Cathedral City cheese and Clover butter.
The partnership would involve London-listed Dairy Crest removing minerals from whey - the liquid that remains after milk has been curdled and strained - produced at a cheese plant in Cornwall.
The report said the demineralised whey would be supplied to Fonterra, the world's biggest dairy exporter, and used as an ingredient in infant milk formula destined for China and other markets.
Fonterra declined to comment on "speculation" yesterday.
Whey protein produced at a Fonterra plant in the Waikato was wrongly suspected of being contaminated with a botulism-causing bacterium last year, sparking a global food scare.
Fonterra bulk whey protein and infant formula base powder are still banned from entering the Chinese market following the contamination false alarm.
However, the Dairy Crest partnership is understood to be unrelated to the ban.
Fonterra launched its Anmum formula brand in China last year and the company also manufactures baby formula on a contract basis for major multinational food firms.
Rabobank senior analyst Hayley Moynihan said much of the world's whey supply was produced in Europe and the United States - the world's biggest cheese markets. She said global demand for whey had been rising as a result of its use as an ingredient in nutritional products such as baby formula and sports drinks.
"How much whey we end up with [in New Zealand] depends on how much cheese is made, versus milk powder and other products," Moynihan said. "We're seeing globalisation throughout the dairy industry - companies are sourcing products from all over the world."
University of Waikato professor of agribusiness Jacqueline Rowarth said it appeared as if Dairy Crest was looking to gain a foothold in China through Fonterra, which "could be good for all parties".
China is the world's fastest-growing infant formula market, where retail sales are predicted to reach US$25 billion by 2017.
Tough new import requirements for baby formula introduced by the Chinese Government on May 1 have sent many manufacturers of the lucrative dairy product into a state of flux. Only five New Zealand manufacturers of retail-ready infant formula, including Fonterra, are registered to export the product into China.