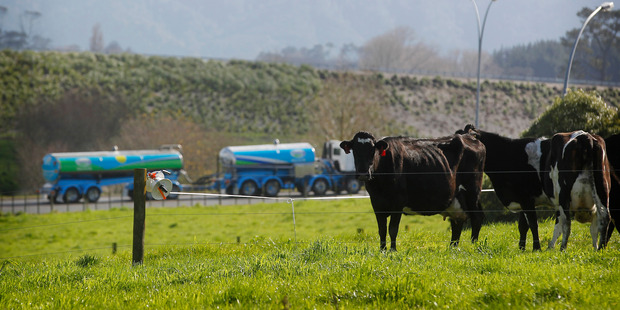 Fonterra's $7.00 per kg farmgate milk price for 2014/15 is once again under pressure after a 4.9 per cent fall in milk prices at this morning's Global Dairy Trade (GDT) auction.
The New Zealand dollar was directionless and pushed higher early in the morning despite the weaker dairy prices, which have fallen by 29 per cent since February.
Bank of New Zealand economists said lower prices will be negative for dairy farmer payout calculations and would, over time, put a dent in New Zealand's terms of trade and current account figures.
The BNZ said the Reserve Bank will be watching closely the divergence between falling dairy prices and the still strong New Zealand dollar, which remained firm this morning at around US87.70c.
ANZ rural economist Con Williams said he had adjusted his farmgate milkprice forecast down further to around $6.25 per kg of milksolids from his previous forecast of about $6.50 a kg.
Overnight the GDT auction registered a 4.9 per cent decline in prices to US$3,595 a tonne.
Whole milk powder (WMP) - the most important line for New Zealand producers - dropped 5.4 per cent to US$3,459 a tonne. The decline in WMP prices came despite Fonterra reducing the volume of WMP to be auctioned over coming months.
Read also:
Dairy drives seventh monthly NZ trade surplus
Williams said it looked like the international wholesale market was reflecting an overhang of product inventory in China.
He said the New Zealand dollar was continuing to ignore the downward pressure on New Zealand's main export commodity, with markets choosing instead to focus on New Zealand's relatively high interest rate, and the prospect of them moving higher still as the Reserve Bank continues to tighten monetary conditions to try and contain inflation.
"But definitely the cracks are starting to emerge, so we would expect some softness to softness to show through in the currency," Williams told APNZ.
Fonterra may opt to revise down its forecast, possibly as early as this month, Williams said.
"While cash flow remains strong from deferred milk payments from 2013/14, in a rising interest rate environment a drop into the low $6's/kg will reduce any discretionary spending fairly quickly," he said.
See more details of last night's auction here.
- APNZ