Institutions tipped to play tough over prices of sharemarket listings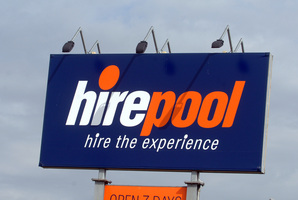 The failure of Hirepool's initial public offer this week was a shot across the bows for private equity companies wanting to sell down their holdings and a warning that institutions are prepared to play hard to get when it comes to pricing, market sources say.
The offer, which was mostly designed to facilitate private equity company Next Capital's partial exit from the company, in addition to raising a relatively small sum to repay debt, was pitched at a $1.10 to $1.50 range but fund managers said the price should have been well south of that.
When it became clear, in the leadup to the so-called book build phase of the IPO, that institutions were pushing back on price, Hirepool said it would not proceed.
"Given the strength of the New Zealand economy and the positive outlook for Hirepool, Next Capital on behalf of the Next Capital Funds, have determined that they are comfortable retaining control of the Hirepool business," it said.
Joint lead managers for the issue were Deutsche Craigs, Macquarie Securities (NZ) and UBS New Zealand.
Investment sources said the failure of the IPO would place extra focus on how keenly other share issues would be priced, but that it would not jeopardise any.
Matt Goodson, managing director at Salt Asset Management, said the problem with Hirepool was that its earnings swing wildly, depending on the economic cycle.
Big construction companies generally have all the gear that they need, and only really hire more when there is a huge upswing.
"That means that Hirepool and the other rental companies go from having their yards full of gear to suddenly having it all leased out," Goodson said.
"So they have got that really leveraged exposure to the cycle because of the way that the larger firms tend to use hire equipment companies."
That said, Hirepool did have a lineup of projects which should bode well for the company, regardless of the state of the economy.
"It's a difficult company to get your head around and in terms of earnings multiples, so I think what the market was saying was that it needed to have a decent risk premium built into the price," Goodson said.
Hirepool, which bought rival Hirequip out of receivership last year, forecast a net profit of $25 million for the year ending June 2015, from a pro forma loss of $17.8 million in the current year, according to the offer documents.
While there have been successful private equity sell-downs of companies - Summerset and Kathmandu to name just two - such transactions attract scepticism because the private equity model is all about buying low and selling high.
Private equity companies typically put in a minimal amount of equity, leverage the business up with as much debt as they can, and then work with management to see how they can improve it with efficiencies and develop the business. As a consequence they get a significant return on the small amount of capital that they put in, assuming everything goes to plan.
While private equity has its detractors, Shane Solly at Harbour Asset Management said it was a sector that could play a big role in the business cycle.
"They are an important part of the capital markets at both ends of the spectrum in terms of supporting and developing growth, and taking businesses private that are being run not as effectively as they could be," he said.
"At the start of a business's life, they can provide a helpful framework for them to grow. At the other end of the spectrum, there is the vulture-type scenario where they will take advantage of businesses in which investors have lost confidence," Solly said.
Hirepool chief executive Brian Stephen, a 28-year veteran of the industry and a former head of Hirequip, has seen more than a few private equity companies come and go.
Ultimately it was private equity that drew Hirepool and Hirequip together when they merged last year.
"The industry in New Zealand needed something to happen because you had Hirequip and Hirepool as really aggressive competitors," Stephen said in an interview before the company was withdrawn from sale. "No one wins out of that, typically."
Stephen said Next Capital, which had been involved in Hirequip since 2006, had been good owners.
"They have done a pretty good job and yes, they have thrown capital at it and have been pretty proactive," he said.
The equipment rental sector has long been the plaything of private equity companies and investment banks, going back more than a decade.
Private equity companies are typically low-profile. In New Zealand they involve names such as Direct Capital, Maui, Pioneer and Waterman Capital and Pohutukawa Fund.
Direct Capital has holdings in clothing retailer Rodd and Gunn, salmon farmer NZ King Salmon, and online retailer Fishpond, while Waterman Capital has a holding in private healthcare company Mercy Ascot, and owns outright home decorating company Guthrie Bowron.
Direct Capital, which has a majority holding in South Island-based apple grower and logistics company Scales, is set to sell down its stake in an IPO. Like Hirepool, the offer will mostly involve a sell-down and the raising of a small amount - $30 million - for debt repayment.
Another private equity selldown, Metro Glass, is expected to hit the market soon and several other IPOs are in train.
Listings for technology firms including Orion Health, Vista Entertainment Solutions, Eroad, TripleJump and CricHQ have been tipped for this year.
Salt's Goodson said he did not expect Hirepool's failure to disrupt the pipeline of new issues coming to the market.
"But I think what it does say is that there is an awful lot of choice out there at the moment. And the valuations have to be realistic."
- APNZ