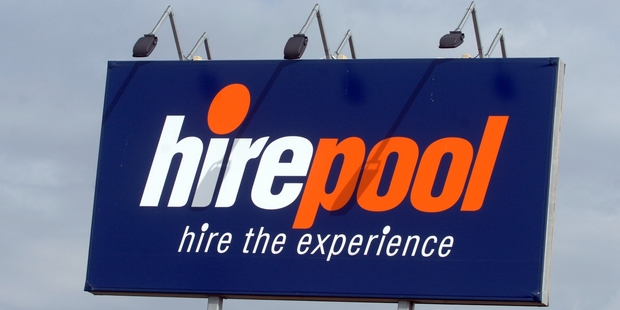 Market sources said Hirepool's majority owner, Australian private equity company Next Capital, had withdrawn its initial public offer (IPO) for the equipment hire company because of a lack support from domestic institutions.
Details of the offer were to have been announced today after an auction-style book building process but cracks were starting to emerge yesterday when institutions were said to have been pushing back on the indicative price tag of $1.10 to $1.50 a share.
Overseas demand from those investors seeking exposure to the successful "NZ Inc" story was said to have been strong, and retail demand was also understood to have been healthy.
"Overseas and retail demand was pretty good but I think the local institutions didn't want to know," said one source close to transaction. "They just didn't want to know."
One fund manager said the problem facing the Hirepool's offer was the competition for the investment dollar on both sides of the Tasman.
In Australia ASX listing prospect Asaleo, which has a big presence in New Zealand but which is not seeking a listing on the NZX, was attracting investor attention.
Local institutions are also spoiled for choice given the number of other domestic issues that are either in train or in the pipeline.
In a short statement issued today, Next Capital said: "Given the strength of the NZ economy and the positive outlook for Hirepool, Next Capital on behalf of the Next Capital Funds, have determined that they are comfortable retaining control of the Hirepool business."
Local fund managers confirmed to the Herald on Monday that institutions were applying pressure behind the scenes before today's book-build.
"We are being asked to pay a big price for a company that has been run pretty hard by private equity," said one fund manager, who requested anonymity.
The issue aimed to raise between $175.3 million and $261.8 million at $1.10 to $1.50 a share, allowing the majority owners to sell down their stakes and the company to raise fresh capital.
Read more:
*Hirepool settles tax dispute ahead of IPO
*Hirepool aims to raise up to $262m from IPO
*Hirepool prices shares for July IPO
One market insider said today's withdrawal could have ramifications for the pricing of other IPOs.
Pre-float posturing by institutions is commonplace in the capital-raising process, and professional investors have in the past been successful in engineering lower prices and more favourable terms, such as last April's offer of shares in the state-controlled power generator Genesis.
"This sort of stuff is not that unusual for an IPO, with institutions trying to get the price down," said one investment banking source.
A strong sharemarket has encouraged several companies to raise capital and to seek a listing on the stock exchange.
Software developers Serko and Gentrack are due to list this week and the final pricing for Metro Glass and Scales is expected soon.
According to its offer documents, Hirepool was expected to have a market capitalisation of $281 million to $339 million. Hirepool's issue, if it had gone ahead, would have been the year's second-biggest float after Genesis Energy's $733 million float in April.