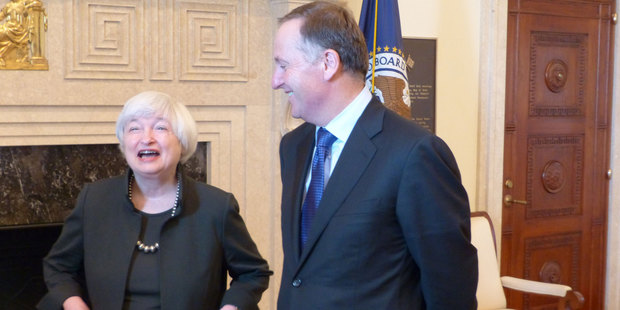 The chairwoman of the US Federal Reserve, Janet Yellen, said the New Zealand economy seemed to doing extremely well.
She made her comments after an hour - long meeting with Prime Minister John Key at the Federal Reserve HQ in Washington this morning.
When they emerged for a photo in the board of governors' board room she was asked by New Zealand reporter if she had heard about New Zealand having been described as a "rockstar economy" [by HSBC] and whether she was envious.
"I've just heard a lot of very good things about the New Zealand economy," she said "and it seems to be doing extremely well."
Read also:
•NZ economic growth will keep rate hikes coming
Earlier Key told reporters he would be "largely in listening mode."
He wanted to talk about tapering, whereby it is reducing its money printing by about US$10 billion a month, and US interest rates.
"Obviously if the US does start raising rates, it is highly likely that the New Zealand dollar would fall because actually you would start to have that interest rate differential which has been widening out in recent times with [NZ Reserve Bank Governor] Graham Wheeler raising interest rates."
He did not believe a rise in US interest rates would necessarily push up rates in New Zealand.
Growth figures yesterday showed New Zealand was heading for four per cent.
He believed Wheeler's view was that the United States was likely at some point to go through its own tightening cycle.
"That's one of the reasons he has felt a bit more comfortable about tightening himself."