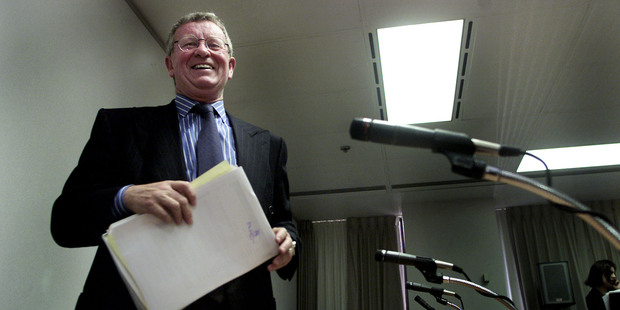 Wouldn't you just know it, legal energizer bunny and much-loved celebrity Queen's Counsel Jim Farmer has been busy doing a lot of very interesting stuff.
In an overdue half-yearly catchup with CaseLoad at the Ladies and Escorts Lounge the other day, a sprightly Jim reeled off some of what he's been up to so far this year.
* A cladding case against Carter Holt Harvey (off to the Court of Appeal)
* The Lombard Four's Supreme Court appeal - "keenly awaited not only by the appellants but by the business community generally as giving guidance from the highest court of the land to how honest directors should be treated in relation to offences of strict liability".
* Representing the Commissioner of Inland Revenue in the complex Alesco tax case - settled shortly before the hearing.
* Being a "written brief only" witness in a Hamilton fraud case - denied the rare opportunity to be cross-examined.
*Acting for the Commerce Commission in Chorus' appeal against the regulated price on broadband pricing - off to the Court of Appeal in July.
* A knotty shareholder oppression wrangle in the Court of Appeal.
* Mediation in the pro bono case of Margaret Spencer and her adult Down Syndrome son Paul, who took on the Health Ministry over care-giver payment entitlement.
* A couple of recent sports tribunal hearings then a break before starting a four week sale-of-business arbitration hearing.
"What struck me about these cases was their variety," Jim told CaseLoad.
"It may be that some lawyers revel in becoming absolute specialists who know more about some esoteric area of law than almost anyone else on the planet."
"But...from a personal point of view being involved in cases covering a reasonably broad spectrum certainly provides constant stimulation and challenge and therefore makes survival as a practising lawyer easier."
Showing no signs of tiring of life in the fast lane, Jim reveals he has an increasing obsession with the "crazy conditions" under which lawyers operate - especially in big urban firms - and the "huge personal toll" that is taken on their health and well-being.
But that, he says, is a topic for another day.
Are Acting Judges Not As Good?
Word among those who know is that freshly-appointed acting district court judges Belinda Pidwell, from Tauranga, and Simon Menzies, from Hamilton, will need to shape up to get "fulltime" work.
Before settling for consulting on family law, Acting Judge Pidwell, who will sit in the Waitakere family court, was for a couple of years a Hague-based cut and thrust war crimes prosecutor bent on dealing to high-ranking Bosnian Serbs accused of extermination, murder, torture, inhumane acts and general persecution.
Well suited for family court bloodbaths, observers say.
Acting Judge Menzies - who has a jury warrant to sit in Hamilton - put his tuppence worth into a Waikato district health board plan to deny jobs to smokers when he previously said that refusing to employ smokers was not grounds for discrimination under the Human Rights Act.
At the time, when he was a Harkness Henry partner and employment law specialist, he figured there was a potential argument that an addiction to tobacco is a disability, which could be grounds.
He didn't think that argument would be successful but it had not been tested.
Five years ago, Thomson Reuters' first public rating of New Zealand law firms reckoned partners in Harkness Henry - Hamilton's biggest law firm - would be earning taxable incomes of more than $400,000 a year.
"Let's hope things have picked up a bit since those hand-to-mouth times," said Our Man At The Bar, recalling the dark days of drinking club whip-rounds.
The question is, when it comes to these "acting" jobs, who judges acting judges and what pressures are they under to be seen to be performing to whatever the criteria is to get a fulltime screw?
District court judges' pay increased to $310,000 last Christmas.
Coming Out in the Wash
Blanche Mclean took exception to last week's reference to Marie Dyhrberg as "occasionally colourful-haired", but no personal appearance references to Matthew Palmer - claiming sexism is not dead in journalism.
If you have evidence, Blanche, that Matthew Palmer also occasionally colours his hair please send photos.
Meanwhile, Dennis Horne writes: "Wow, I wish we could have regular updates like this about the legal industry of NZ! Gold Mine! Great work!"
Keep watching Dennis, and tell all your mates.
Shockingly Distasteful Headline of the Week
From Above the Law website: "New Jersey To Ban Bestiality, Hundreds Run To Molest Cows Before It's Too Late"
It seems bestiality is to be outlawed in New Jersey in the light of the dropping, in 2009, of a previous cow molestation case against former cop Robert Melia.
While a judge reckoned Mr Melia's actions were not OK, the prosecution case wasn't strong enough.
* Bovine buggery has also made occasional headlines here, as evidenced in the historic 1970s Truth poster: "Cow Poker From Ohoka"
Law Firms In Shock Fee Cut
News that 175 law firms offer discounted fees to Old Age Pensioners (OAPs) - up from a miserly 55 two years ago - is welcomed at the Ladies and Escorts Lounge, where The Scunner and his creaky cronies contemplate a fresh wave of unmitigated cut-price mayhem.
"I hear they give up to a third off defences for loitering within sight of a nunnery, public ribaldry and casting offensive matter on Her Majesty's dockyards," said Our Man At The Bar.
"And even more if you are a loyalty-card-carrying recidivist. Good news for the likes of you, CaseLoad."
Seen and Heard
* The New Zealand lawyers and conveyancers disciplinary tribunal issued an interim suspension order on May 22 against Auckland lawyer Miriam Hollins, because, in its view, there was an immediate need for protection of the public and other lawyers.
The tribunal says further proceedings to determine whether yet-to-be-made- public allegations against Ms Hollins are proved, are still to be heard.
Ms Hollins is founder of Virtual Law, which was glowingly described in NZ law society magazine LawTalk a couple of years ago as "an innovative practice (away from the traditional approach) that provides flexible and adaptable legal services for clients and staff."
She did not respond to CaseLoad's email inquiry as to what this is all about.
* The legal research foundation's JF Northey memorial book award for the best New Zealand legal book published in 2013 was shared by Peter Devonshire's Account for Profits and Richard Boast's The Native Land Court, both published by Thomson Reuters.
[John Frederick "Jack" Northey, 63 when he died in 1983, was Dean of Law at Auckland University and one of New Zealand's most distinguished legal writers.]
* A big gowned turnout is expected for a memorial sitting of the Court of Appeal at Wellington on Tuesday July 22 to honour former president the late Sir Owen Woodhouse.
* Minter Ellison Rudd Watts partner, corporate, commercial and entertainment specialist John McCay, who joined the board of Film New Zealand last June, is the new chairman from July 1.
* Nikki Pender joins founding principals Stephen Franks and Rob Ogilvie as a principal of Commercial Public Law, trading as Franks & Ogilvie. A consultant for three years, she remains in charge of the firm's litigation and dispute work.
Footnote
Everything is expected to go off with a bang for the Auckland university law school's 1980s reunion this Friday and Saturday, with Lady Deborah Chambers QC and her committee expecting a bash to beat all bashes.
"Police leave cancelled???" said The Scunner.
Next Time
Are Lawyers Relevant? A Shocking Insight...