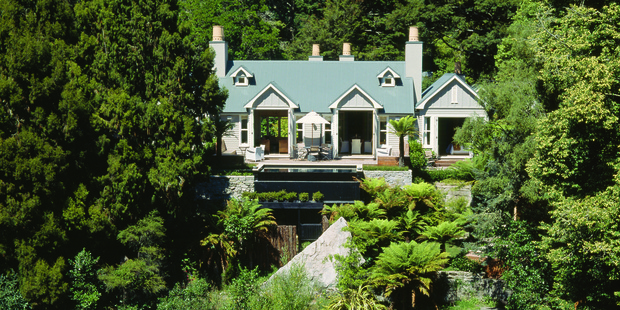 The man suing Huka Lodge's owner for half the assets the pair built up together has convinced the High Court a caveat claiming he has an interest in the property should stay in place.
Alex van Heeren, former Dutch honorary consul to New Zealand, is widely acknowledged as the owner of Huka Lodge, a luxury resort which has hosted the likes of the Queen, Bill Gates and Pink Floyd.
When van Heeren arranged the purchase of Huka Lodge in 1984, he nominated a company he set up called Worldwide Leisure to take the title.
Worldwide Leisure's main shareholder is a Dutch company called Saraceno Holdings, which the Overseas Investment Commission in 2005 said was to hold shares in the lodge "as bare trustee" for van Heeren.
In February this year, van Heeren's former business partner Michael Kidd lodged a caveat over Huka Lodge's title, claiming a beneficial interest in the land.
The men have been embroiled in a court dispute over the division of assets since 1996, when Kidd brought a claim in the High Court against van Heeren.
The two worked together in the international steel trade for about 15 years and acquired an empire of assets before parting ways in 1991.
After the split, Kidd claims he received only US$5 million of assets while van Heeren allegedly retained control of assets worth $47 million that included 32kg of gold, Huka Lodge and Fiji's Dolphin Island resort.
The New Zealand proceedings between the pair were put on hold while they fought in the South African courts but the local litigation is now live again.
Kidd applied yesterday in the High Court at Auckland to keep the caveat over the property.
His lawyer, Brent O'Callahan, said van Heeren acquired Huka Lodge for the pair's partnership and that Worldwide Leisure held it on trust for the partnership.
Worldwide Leisure lawyer Murray Tingey opposed the application and argued Kidd's claim was time-barred and could not be brought now.
In an oral decision, Associate Judge Roger Bell said that Kidd did have a caveatable interest in Huka Lodge and that the caveat should hold.
He said there was clearly an arguable case that Huka Lodge was purchased with funds from Kidd and van Heeren's shared steel trading activities.
The judge said Kidd was to either file fresh proceedings against Worldwide Leisure or apply to join the company to the main proceedings against van Heeren. He awarded costs to Kidd.