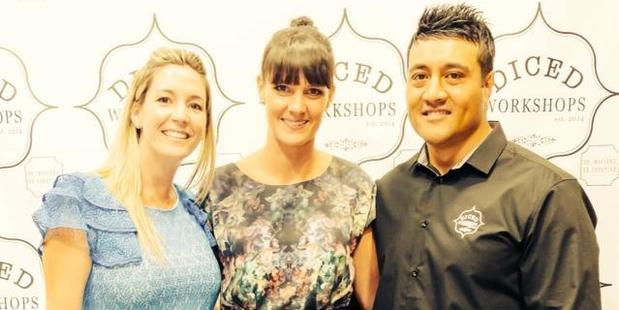 Can you tell me a bit about your background?
I was born and raised in central Auckland, with parents of Samoan/Chinese heritage.
I have worked in a range of jobs, from retail to account management in telecommunications and more latterly, security, where I held a management role handling up to 30 staff during events and at other busy times.
I was very successful with this but, unfortunately, I was involved in an altercation with a gentleman early last year that resulted in court proceedings. I was discharged without conviction and retained my COA security licence, but the incident resulted in me moving out of my security role and going out on my own, developing business ideas alongside my partner, Kelly Miller.
What businesses have you developed together?
We came to create Intercede Corporate Security, which provides security services to clients such as Red Bull NZ, Universal Music and PR companies that hold high-end events.
We also created DICED Workshops - a creative workshop company that provides fun and educational workshops for all ages and groups. DICED is an acronym for Design-Inspire-Create-Exceed-Develop.
Kelly has an amazing talent with food - she is a former Masterchef New Zealand competitor - and her creations always drew attention from our family and friends. We talked about the idea of building that into workshops, and not only with food but all things creative. Our goal is to create fun, educational workshops for everyone from children through to senior citizens on anything from food, to wine, to floristry.
We want local businesses to use us as a marketing tool, and part of our business is not only about providing access for our clients and customers to the products or services being used in the workshops but also to educate them on their benefits and features. We're a mobile business and we create specific workshops to target large groups for corporate team building and also for private functions.
What would you like to see your business become?
The aim this year is to get exposure, build great relationships with existing businesses and to inform and educate people about who we are. I would like to see DICED Workshops become a well-established brand and service to help create positive outcomes everywhere from after-school programmes to community centres to corporate organisations, providing people with new skills to share with family and friends.
In the future we want to be able to live comfortably knowing that we created a business that not only supported our families but also created a positive impact in our communities and in businesses around Auckland.
Your business is still very young, but what are some of the challenges you've encountered so far?
The real challenge for me is finding a balance, as I am currently also working full time as a restorative justice facilitator with MUMA [Manukau Urban Maori Authority], contracted to the Ministry of Justice.
We have learnt quickly that you need to build on momentum and that sometimes we need to accept poor decisions and learn quickly from them.
Also because there isn't any other business out there that's quite like DICED Workshops a lot of people are unsure of what we're about and we've struggled a little with getting our name out there. But we have been successful in getting some great organisations behind us, like Auckland Council, Babich Wines and Nosh Food Market among others.
You've been assisted by the Pacific Business Trust. How have you worked with the trust and what have you gained from that experience?
Pacific Business Trust enabled Kelly and myself to really step out of our comfort zones and to think about our long-term goals. The business mentor we were assigned, Kalia Valoa, was great. He provided simple tools and enrolled us in a 'first steps to business' paper, which basically taught us the fundamentals of starting a business and how to keep building and expanding. We still talk regularly with Kalia and Doug Murray, another business tutor/mentor to us, who is also the manager of the Vodafone Warriors under-20s team. They have given us invaluable insights and advice in terms of marketing, branding and business structure.
What do you think could be done to encourage more Pacific people to start businesses?
I believe it has been frowned upon when we, as Pacific people, head out on a new journey in life, and starting a business is one that is sometimes discouraged by family members and friends that do not believe in taking risks. The fear of failure is one that really sits with me.
I feel our Pacific people need to be educated more on the availability of government-funded courses that encourage business development for Pacific peoples to upskill themselves and understand the basics of starting a business. We need to really market and educate our Pacific communities that there are opportunities for them to create businesses to support themselves their families, but there also has to be recognition of a need for continuous support for us as Pacific people in this area.
Coming up in Small Business: What are some of the cool Kiwi scientific innovations that are being turned into companies? If you've got a good story to tell about this, drop me a note: nzhsmallbusiness@gmail.com