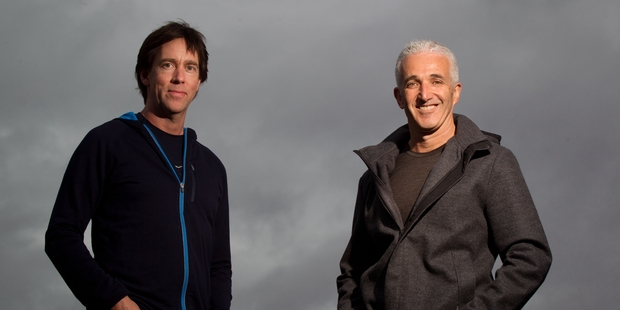 Former Air New Zealand chief executive Rob Fyfe says he has been wearing Icebreaker clothing a lot more than his famously colourful business attire during the past 18 months.
Fyfe, who is Icebreaker executive chairman, will swap roles with current chief executive Jeremy Moon in a move announced yesterday.
Fyfe said the move had been in the pipeline for about six months, after the two sat down and realised they were in the opposite roles to their skill sets.
Moon said he was thrilled to have Fyfe take over as chief executive.
"[Fyfe's] proven strengths as a game-changing CEO will align perfectly with the global goals we've set forth as we move toward record growth in future years in an increasingly competitive landscape," Moon said.
Fyfe joined the Icebreaker board in 2012, after seven years as Air New Zealand chief executive.
He has been executive chairman of the merino clothing manufacturer for nine months. A self-titled outdoor nut, Fyfe said Icebreaker was a good fit, and one he thought was worth swapping the business suits for.
"If I look at how I've spent the last 18 months, which has been travelling and hiking and doing all sorts of things, I've been spending a lot more of my time in Icebreaker gear than I have in traditional business clothes that's for sure."
While the move from Air New Zealand to Icebreaker was "definitely a change", Fyfe believed there were similar challenges between the companies, and that the complexity of working with Air New Zealand would help him prepare Icebreaker for what lay ahead as a growing company.
"Air New Zealand and Icebreaker are quite different but at the same time it was always really important to me that the company had a heart and a sense of identity and personality, so I've always felt more comfortable in an organisation that had a smaller company, entrepreneurial feel to it, which Icebreaker obviously does.
"They're a great success story," Fyfe said, adding that he was in the company for the long run.
He had not discounted the idea of floating Icebreaker on the NZX, depending on how things go.