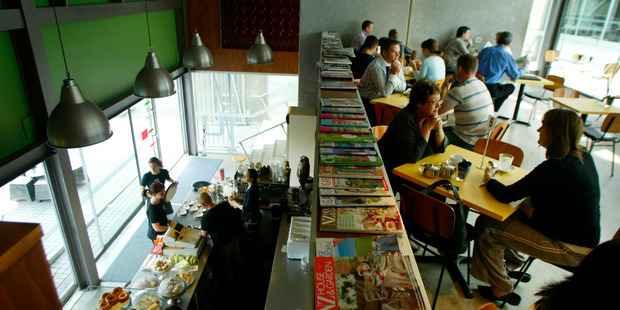 A national acoustic rating tool is gathering data on which New Zealand restaurants and cafes are the loudest and which are the quietest.
Stuart Camp of Marshall Day developed the Cafe & Restaurant Acoustic Index (CRAI) and said it was like other restaurant and cafe reviews, except instead of food and service, noise was being rated.
James Whitlock, also of Marshall Day and a member of the Acoustical Society of NZ, said noise experiences were subjective and one person's idea of a vibrant, lively place was another person's hell. The rankings are given by consumers and the society says while most reviews focus on food and service, noise was seldom mentioned, he said.
"The CRAI rating system aims to provide the public with the ability to match the type of eating experience they want with the acoustic environment," the society said.
Sound levels in a noisy Newton cafe have been halved, by 9 decibels, in an attempt to make it more pleasant for staff and customers.
A spokeswoman for building specialist GDK Group which carried out the work said Benediction at 30 St Benedicts St suffered from excessive reverberation caused by hard surfaces. Noise from equipment, staff and patrons caused sound levels to soar, so voices were then raised to compensate and the noise levels continued to escalate.
"This crescendo started to impact on speech intelligibility making it very difficult to hear, let alone understand what was being said. The brief was to reduce reverberation on the first-floor level to enhance speech intelligibility and patron comfort. Absorption of sound flanking from the lower counter area was also a key consideration," she said.
"Tests showed an average sound reduction of 9.04dB - almost half of the original sound level," she said.
Mark Lawrence, GDK national sales manager, approached cafe owner Peter Nian to hush the place.
"I chose Benediction through the experience of enduring the excessive reverberation and subsequent noise levels when having a coffee or lunch. The cost of the acoustic fitout was carried by us as I saw it as an investment. The acoustic fitout - excluding new table tops - including product, shipping and install was approximately $19,500," Lawrence said.
The spokeswoman said decorative, practical and functional sound-absorbing elements included panels, suspended ceiling clouds, a micro-perforated acoustic baffle balustrade and soft acoustic panels.
How loud?
• Cafe & Restaurant Acoustic Index ranking tool
• Information at www.acoustics.org.nz
• Everyone can rank an outlet they have visited
• All results available online
Source: Acoustical Society of NZ
Stars
One star: Lip-reading would be an advantage.
Two stars: Take earplugs at the very least.
Three stars: Not too bad, particularly midweek.
Four stars: A nice quiet evening.
Five stars: The place to be and be heard.