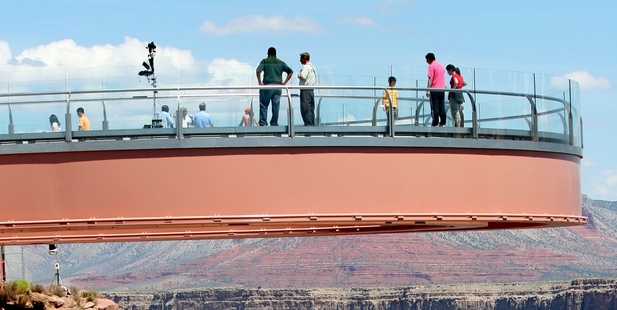 When America parties, she parties big.
At last month's IPW conference in Chicago, the United States tourism industry had much to celebrate. IPW brings together American travel suppliers with international buyers - more than 6000 travel trade figures, wheeling, dealing and networking - in many cases over a drink.
And it pays off. Last year's event in Las Vegas is estimated to have generated 8.8 million visitors over the next three years, spreading US$28 billion of tourist spending across the States - US$4.7 billion of which was booked directly on the trade show floor in Vegas.
New Zealand's equivalent trade show, Trenz, runs from May 18-21 in Auckland and brings 300 delegates to meet 260 Kiwi tourism operators. Buyers come from 30 countries with 70 from China and Hong Kong alone.
The IPW host profits the most, with delegates and media seeing the best of the host city during the week-long conference and on familiarisation trips either side of it.
The Las Vegas conference was estimated to have brought $1.6 billion over the next three years into the local tourism market.
US Travel Association president and chief executive Roger Dow called it the "IPW effect".
"The brand exposure the city gets as a result of the show creates an additional one million visitors for the city," Dow said in Chicago. "It delivers more to the city than the Super Bowl by many times. In fact, IPW keeps giving and giving for years to come."
Dow saluted the recent rise of the federal Government's Brand USA in focusing and spreading US tourism's message globally.
"It's evidence that the US Government is beginning to understand what so many countries have understood for decades," he said. "Brand USA has done some terrific things."
The Obama Government gave Brand USA the task of achieving 100 million international visitors a year by 2021, up 61 per cent from 62 million in 2011. Dow conceded the numbers should be easily reached. To meet the President's target, the USA needed to add 6.2 million visitors a year; it actually added 7.1 million.
The first wave of Brand USA's marketing saw them move into big regions, like Britain, Canada and Japan. They've come to New Zealand in the second wave. On these shores, Brand USA has partnered with APN, owners of the Herald, and with Let's Travel magazine.
New Zealand representative Wayne Mitchum said 209,000 New Zealanders visited the US last year, a 12.6 per cent increase on the previous year. The strength of the New Zealand dollar and increased air capacity had helped drive that growth.
It's big business. At last month's closing night function, Oscar and Grammy winner Jennifer Hudson sang at an exclusive event inside Chicago's Museum of Industry and Technology - which has a U-boat in the basement. Now that's a big party.
• Winston Aldworth travelled to Chicago courtesy of IPW and Air New Zealand.