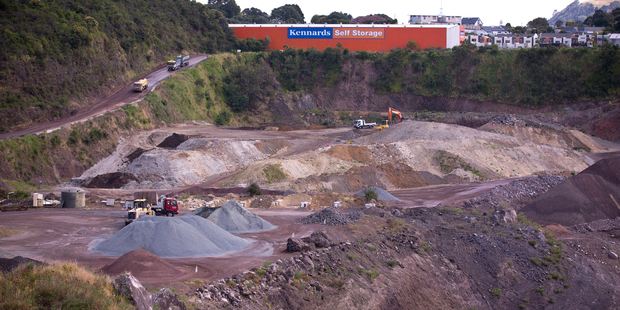 A community group wants what it says is Auckland City's deepest quarry filled in before new houses are built in the pit deep below ground level.
Three Kings United Group president Garry Bryant said the Winstone Quarry was 34m below road level after being mined for about a century.
"The public wants it filled in," he said. "It would then be like a sloping billiard table, contoured up from Mt Eden Rd to the Big King. This would then better restore the slope of Big King."
But Fletcher Development's general manager, Bernie Chote, said the hole was only 15m below Mt Eden Rd.
Stonefields, where Fletcher and Todd Properties are building, is much deeper and his company plans to only partially fill the Three Kings land.
A community meeting this month heard calls for the full refill.
"About 30 people there wanted it filled in," Mr Chote said.
But Fletcher was confident it could meet everyone's hopes for the site with a partial refill.
"One of the key factors is sight lines. If you fill it to the top and put buildings on top of that, you wouldn't be able to look through from Mt Eden Rd," he said.
Mr Bryant said Fletcher should heed the calls for a full refill.
"Filling it in would enable Fletcher Developments to create cycleways and walkways through the entire project which would establish an east-west and north-south link to Mt Eden Rd," he said.
Emeritus Professor Dick Bellamy, a former Auckland Regional councillor and now chairman of the South Epsom Planning Group, said Fletcher's plans had generated dismay and concern in the community and among local political leaders because out of the blue it had proposed its own precinct plan and presented it to the community as a fait accompli.
Mr Chote said earth brought to the quarry would create stable building platforms for townhouses and apartments.
Fletcher's private plan change application to Auckland Council, which could allow its scheme to go ahead, would be submitted around Queen's Birthday weekend.
The Puketapapa Local Board is to issue its precinct plan soon, revealing its scheme for the land.
Digging in
Winstone Quarry, ThreeKings:
• 21ha on Mt Eden Rd.
• Site of $1 billion proposed project for up to 1500 homes.
• Could take 10-15 years to complete.
• Fletcher to apply for council consent this month.