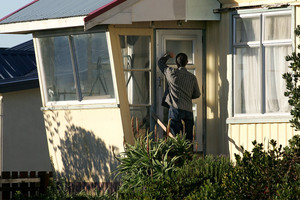 An announcement from New Zealand's largest electricity retailer to drop intrusive door-knocking marketing tactics is unlikely to inspire similar antics in other companies, a marketing expert says.
Genesis Energy announced today it would end the practice of door to door sales after feedback from customers showed they were sick of unwanted interruptions at home.
Research commissioned by the company found 81 per cent of New Zealanders disliked door to door salespeople coming to their homes unannounced, while almost two thirds would like the intrusive practice stopped altogether.
Dr Bodo Lang, from the Department of Marketing at the University of Auckland, hailed today's announcement from Genesis as a good PR move.
"It's a public company now and as a publicly listed company you have to pay a lot of attention to your bottom line. You have to be responsive to stakeholders ...
and a key stakeholder group is customers and potential customers.
"If you're doing a survey and 81 per cent of people say 'I don't like this' and you continue doing it, you might not be doing so well because you're not listening to your stakeholders concerns," he said.
The survey results also showed some kiwis had to fend off as many as 36 sales people a year knocking on their door.
Dr Lang said while the door-to-door sales method was expensive, it was also quite effective, making it a favourite among "subscription-type" businesses.
"Telecommunication, banking, power, electricity, internet - anything that is ongoing. It's a great method to use to sell because basically once you've got people, they are unlikely to switch so you'll keep them for a number of years."
Because door-knocking was a proven sales method, other companies were unlikely to drop it, he said.
"It's actually a very expensive method to sell, but in a product category like electricity where ... you are buying a lot from one supplier, it's worth doing it.
"[Now] there's one less competitor using this method, which makes the method possibly, slightly more effective so I wouldn't expect that there's a huge exodus now from other companies," Dr Lang said.
Genesis hired polling company Perceptive Research to survey 1015 New Zealanders last month.
Chris Watney, the company's general manager, said today's announcement was prompted by consistent feedback from customers who didn't like salespeople coming to their homes.
"The more we looked into it and took people's opinions into consideration the more we realised stopping it was the right thing to do," he said.
- with BusinessDesk
- APNZ