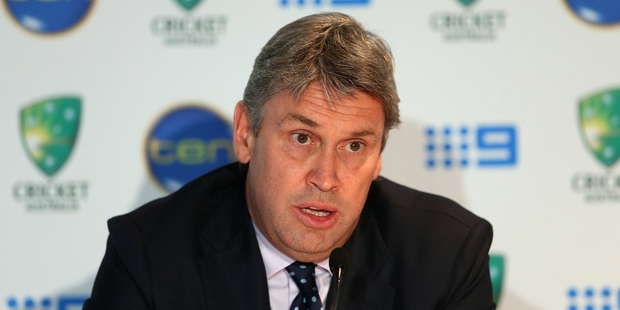 There was no blood on the pavement after the Battle of Bondi - but there were reportedly teeth.
Witnesses thought they might have been knocked from the mouth of billionaire James Packer during a brutal street fight with the best mate he has long regarded as a brother.
David Gyngell runs the TV network Packer used to own. Had it not been for a fortuitously placed paparazzo, who caught the brawl on camera and sold the video for a reported A$214,000 to News Corp after an international bidding war, people might have struggled to believe how two of the nation's most powerful men settled scores.

James Packer.
Tension between the pair exploded into violence on a road outside Packer's luxury pad, just back from Australia's most celebrated beach, on Sunday afternoon.
After fists flew for several minutes, speculation ran riot, but yesterday both men - besties since childhood - declined to explain why they had come to blows.
"We have been friends for 35 years and still are," they said in a joint statement released shortly after Gyngell, 47, briefly visited Packer at the beachside mansion.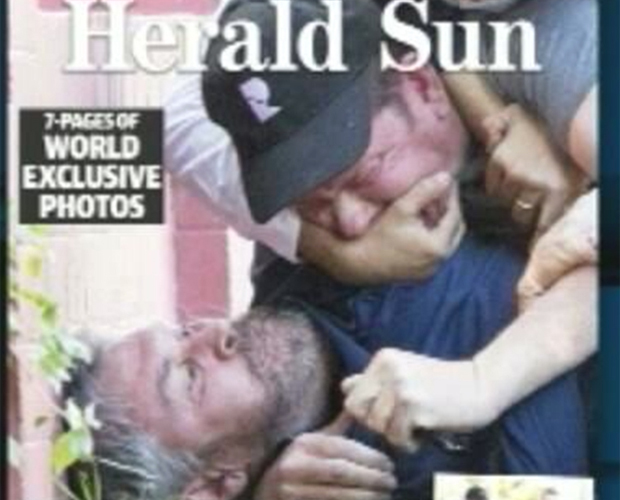 Today's News Corp front pages feature photos allegedly bought for A$214,000.
"In that time we have had our fair share of ups and downs. We respect each other and neither of us will be commenting further."
The sons of Australian TV pioneers Kerry Packer and Bruce Gyngell grew up in a macho culture where the fist could be a useful weapon in the resolution of a business dispute.
Quoting sources, Australian media said their relationship became strained after the casino and gambling mogul split from his second wife, Erica Baxter.
Gyngell - who was best man at both Packer weddings - is said to have been dismayed by the bachelor billionaire's partying lifestyle. The Nine Network chief and wife Leila McKinnon are godparents to Indigo, the eldest of Packer's three children.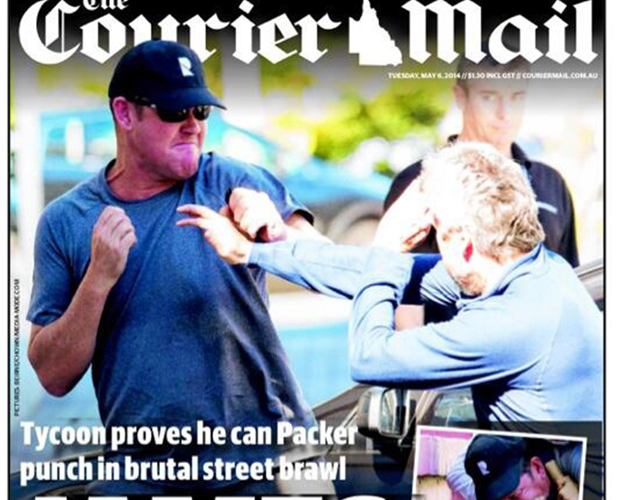 Today's News Corp front pages feature photos allegedly bought for A$214,000.
One source told News Corp the divorce was one of a "stack" of issues between the men. "This has got nothing to do with business," the source said. "It's all personal."
Rupert Murdoch's media company reportedly outbid Gyngell's Nine Entertainment and others to secure the rights to the paparazzo's video and 50-plus images of the punch-up.
It kicked off after Packer, 46, flew to Sydney by private jet before being chauffeured to his Bondi mansion.
There, a barefooted Gyngell, who had just been for a surf, was sitting on the boot of his car. Gyngell had earlier reportedly been heard telling someone on his mobile phone that he was "going to punch him".
Photographer Brendan Beirne said the TV executive confronted Packer and, after an exchange of profanities, fists flew.
Local Chris Walker tweeted: "Packer packed a punch but copped a couple of hits straight to the jaw."
The confrontation ended when Packer's minders and chauffeur intervened to pull the men apart. Whether either man lost any teeth could not be confirmed.