Recently out of bankruptcy, Jamie Peters faces nine charges under Insolvency Act.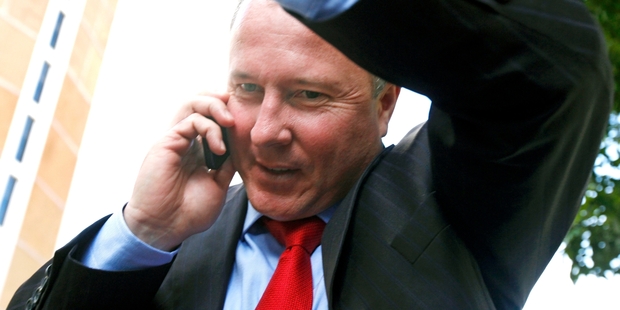 A former rich-lister recently discharged from bankruptcy is heading back to court, facing charges including misleading authorities and concealing property.
Jamie Peters, who made the National Business Review Rich List in 2006 with an estimated fortune of $40 million, was declared bankrupt in 2009 owing more than $100 million.
Peters, a relative of New Zealand First leader Winston Peters, was involved with a number of high-profile developments before his bankruptcy, including the $300 million East on Quay office development in Auckland.
Last year, he successfully fought an application by the Official Assignee to keep him bankrupt until October 2015.
However, the Official Assignee has appealed against the decision and is making a push to return Peters to bankruptcy.
A ministry spokeswoman confirmed that Peters is facing nine charges under the Insolvency Act.
He is scheduled to appear in the Auckland District Court tomorrow, but it is not yet clear if he will appear in person.
He told the Herald yesterday he was away for "a few days" and was unsure if he would return in time.
He was, however, "comfortable" with the case, he said.
"[I am] absolutely comfortable with the charges and, as you can imagine, my lawyers don't want me saying anything about it yet. However, what I will say is it's typically amateur and a waste of taxpayer money."
During last year's legal stoush, the High Court at Auckland heard how Peters had entered into a finance agreement for a Mercedes-Benz R500 and was a guarantor on a finance agreement for a Bentley Continental GT when he was unable to pay debts.
More than $300,000 from the sale of a $2 million luxury yacht, which Peters had personal use of before his bankruptcy, ended up with a company directed by his father-in-law, the court also heard.
It was said during the hearing that Peters had bought an $18,000 engagement ring while bankrupt using funds provided by a Michael Skates, a friend who took over the directorship of more than 30 companies when Peters went under in 2009.
Skates told the court he had also provided around $50,000 to Peters' partner for the couple to go on an overseas holiday in 2010.
Associate Judge David Abbott, when releasing Peters from bankruptcy last December, did not believe there was sufficient reason to impose sanctions on him or that his discharge would create "an unmanageable risk to the business community".
The maximum penalty facing Peters for any of the charges going before the court tomorrow is three years' imprisonment or $10,000 fine.
Jamie Peters
Charges brought against him:
*3 x concealing property
*2 x misleading the Official Assignee
*Failing to answer questions at a creditor's meeting
*Contracting debt without expecting to pay debt when due
*Making a written statement to a creditor that was not a true statement of his affairs
*Taking part in the management of a business