Broadcaster says it needs system to identify potential problems, but some staff take a more cynical view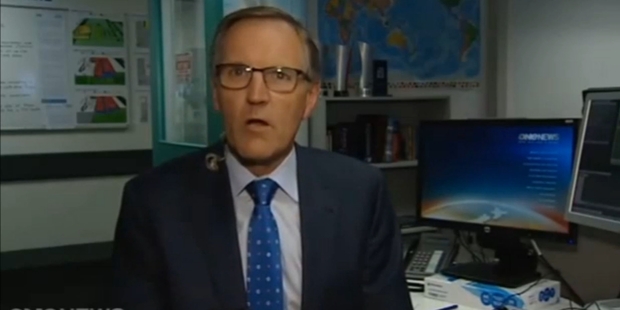 New Zealand's biggest newsroom has taken the unusual step of setting up a register to formally identify "risks" in its news coverage.
After the Shane Taurima debacle at TVNZ, corporate bosses and the government-appointed board do not want to be surprised by any controversies.
The "risk register" also follows another gaffe, in which newsreader Peter Williams made up an item of supposed abuse on social media, for a piece on the Breakfast programme.
As well, TVNZ news bosses have received a complaint from Judith Collins over the network's coverage of her political relationship with PM John Key after the Oravida dinner in China.
So it has been a hairy start to the year, and breaches of editorial protocol appear to have slipped through the net at TVNZ.
How the new risk register will operate is still being worked out, but TVNZ spokeswoman Georgie Hills says it will enable management to be better prepared.
"We've made some mistakes and we do not want to make them again," she says. "This approach is really about strengthening our editorial systems and about being more vigilant.
"That can only be good for our journalism. It's an internal process that will keep track of editorial issues. It might relate to a story that has already gone to air or it could be something that we have identified as a potential problem."
Such registers are common in the corporate world, but not in media and news management.
Geraint Bermingham of risk assessment firm Navigatus says risk registers can be very formal, with lots of management-speak, and are not always right for "dynamic" sectors such as media companies. "Most companies would include public relations as a key area of risk - because [increasingly] things can move very quickly," Bermingham says.
Spaghetti junction
As a state-owned, commercially focused company, TVNZ has a complex relationship with Treasury, the Government and the commercial world.
News media firms hire editorial executives who know how to cross the road at the junction of money, power and influence.
An element of risk is important for all media. In my opinion, formalising the assessment of that risk could further diminish TVNZ's willingness to be involved in complex investigations.
TV3 news boss Mark Jennings says the risk register might be a way to counter the loss of institutional knowledge after a long period of defections from TVNZ to other media. Staff at TVNZ approached by the Herald are more cynical. One says the risk register is to protect reputations, or an "arse covering" exercise by management when it has to explain errors to the board.
Ill-feeling
The TVNZ board did not give wholehearted endorsement to the way management handled problems at the Maori and Pacific unit, and claims of pro-Labour bias while Taurima headed the unit. Taurima has departed, and an inquiry into those claims continues.
Its report will be out soon, but TVNZ will be well aware of its interim findings. Now it seems the risk register will be part of management's solution to any failings the inquiry identifies.
Among staff, reservations about the risk register relate to the actions of chief executive and editor-in-chief Kevin Kenrick at Parliament's commerce select committee, when he said he favoured staff being obliged to declare their political views. Kenrick's opinion was swiftly debunked by the Human Rights Commission and the State Services Commission.
However, his comments, which some staff regard as an insult, and which he has never rescinded, have created ill-feeling in the newsroom, sources say.
Radio with pictures
The Radio Network is relaunching two of its networks on Monday, with more video material on ZM, and plans to do the same for The Hits network.
The makeover of ZM has been marked by the creation of a new Auckland studio, to be used by Fletch, Vaughan and Megan, new hosts on the ZM breakfast show. Former ZM host Polly Gillespie has moved to a new networked breakfast show on The Hits, formerly known as Classic Hits.
TRN unveiled ZM's new studio this week. It is part of a push to converge its radio operations, with live internet streaming of presenters and guests in the studio, and the ability to show video clips on the net, and on screens on studio walls.
A new Wellington studio for The Hits will open next month.
The boosting of internet streaming is an early move into a new market, as radio and television converge through the internet. While initially focused on content, it will also be a revenue source.
Clear skies
In the US, former TRN part owner Clear Channel has used Ryan Seacrest to host a successful video show online. The new TRN digital venture is alongside TRN'S iHeartRadio, which is also a key property for Clear.
Ironically, TRN has picked up Clear Channel initiatives just as Clear has sold its 50 per cent stake to its partner APN.
Advertising consultant Martin Gillman agrees media consumers are focused on video, something that is apparent at nzherald.co.nz and its increased video content.
But he says TRN is joining a crowded market, with rival MediaWorks also providing crossover between its radio and TV arms.
Old school
I don't often report on backroom comings and goings, but the retirement of veteran subeditor Alan Young after nearly 50 years is a milestone for a fast-changing newspaper industry. Young this week ended his fourth stint with the Herald after holding top subediting roles in newspapers here and in Australia, including as chief subeditor of the Herald.
He started at the Otago Daily Times as a reporter in 1965, then worked at the Herald from 1970 to 75. He was deputy chief subeditor at the Auckland Star and was the last editor of the Saturday night sports paper 8 O'Clock. For 12 years he worked at News Media Auckland, in roles that included editorial manager, chief sub of Truth, deputy editor of the Sunday News, systems manager, production manager and Auckland Star deputy editor. After working as deputy chief subeditor of the Sunday Star-Times, Young returned to the Herald in 2006. He is renowned as an old-school subeditor and an expert in rewriting stories.
Sharpened
I am not the biggest fan of Mike Hosking, nor of Seven Sharp, but it is hard to escape the fact that the show has recovered under its new format, with Hosking as the star.
It's true that Hosking's comment segments and Newstalk ZB persona will ensure the state broadcaster is accused of a pro-National bias, but in the current political environment, TVNZ will be less worried by allegations of bias from the left than criticism from the right.
A political item last week was proof that TVNZ intends to treat politics with some seriousness, now it has abandoned the frippery of the old Seven Sharp format. The item dealt with the issue of Associate Health Minister Peter Dunne, and his role regulating the legal high industry, while his son, lawyer James Dunne, is parliamentary boss for lobbying firm Chen Palmer, and a specialist working for the legal high industry.
Is this new focus on proper stories because of new producer Pete Cronshaw, or Hosking's arrival?