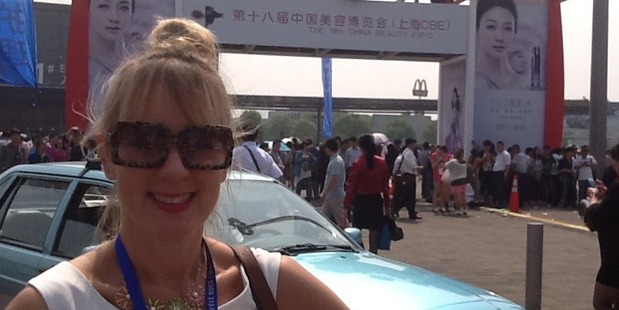 Lisa Jolly is the founder of Auckland-based contract soap and body product manufacturer Soap Opera Productions.
What is Soap Opera Productions?
It is pretty much that - a soap manufacturing business with lots of good clean drama. We manufacture handmade soaps, bath bombs, bath salts and so on, and try and add a bit of creative drama to the products.
Originally I had a retail business, and sold soap along with other girly goodies. However, one day a Chinese couple walked into one of my stores and asked if I could make the soap to be sold in China for a concept they wanted to launch. Being the optimist I am , I said 'yes, of course' all the while knowing I didn't know the first thing about making soap.
I took action the very next day and flew to Nelson where our soap manufacturer was located.
I asked if they could lower their prices, as I wanted to cut a deal with the Chinese customers - I saw myself as a bit of a broker - but to my horror they said no. I had committed to show the Chinese couple 12 samples the following week. I then knew I had to learn how to make soap so I paid a hippy in west Auckland $1000 to show me and stayed up all night perfecting my creations.
I took the samples to the Chinese couple and secured my first order of 1000kg - all made in my kitchen. The orders kept coming in and around six months later my original supplier called to ask 'why aren't you ordering off us anymore?' I told them I was making my own soap now, and explained that their 'no' had turned into my 'yes'. Six months later they called again offering to sell me their factory. I did a deal, and before I knew it a factory that had been sitting in Nelson was being placed into a Pukekohe workshop.
Since then we have moved twice, and now we have an awesome location - 250 square metres with some offices.
Where do you sell your products?
My main customer is one Chinese man, who is passionate about New Zealand and has a brand in China called www.koru.cn. When we started with him he had one shop, but he now has many more and we're his main supplier.
We also started our own website last year out of desperation when some of our goods got held up in Customs - equalling zero dollars. I built an MYOB free website www.soapy.co.nz and we received an order within five minutes of it going live. It's now receiving hundreds of orders a day. We also have a few retail customers in New Zealand but - I mean this in the nicest way- that's hard work as New Zealand is just so small.
What's it like doing business in China?
We have a very strong connection with our Chinese customer and we laugh and cry together. I'm a Kiwi girl with a vision and passion and he is a Chinese man with a vision and passion. We both share the same work ethic and that's important. Doing business in China, in my experience, is about honesty and building a strong connection. In saying that communication can be tough; he doesn't speak English and I don't speak Chinese, and what we like he often thinks is awful.
I think the Asian market is so exciting and I find it a shame that many New Zealand businesses don't take the time to understand it or the potential volumes involved. People often ask 'will you be able to make enough product?' and my answer is 'of course -.why not?' It's just a matter of growing and being determined. I recently established a connection for one of our samples with the head person at what I would call the number-one company in our space in France. People are shocked and say 'how did you do that?' Well, firstly I stepped out of New Zealand and believe 100% in our products. The world won't come to little old New Zealand - you need to go to the world.
What are the major challenges you're facing right now?
Definitely cashflow - growing is hard work! We have such a clear vision, but bringing new people into a business that you have 'made up' can be challenging. We are getting better at things, though, and recently engaged a coach to help us bring everything in the business to a world-class standard.
What are your advantages as a smaller manufacturer over larger competitors?
I guess our main advantage is our ability to create; we are not confined by a corporate structure. We are all a bit nuts so creatively we come up with some awesome products and we use our quirkiness and bluntness to tackle new products that haven't yet been seen in the market.
The type of product we make is usually made on a cottage industry-type scale, yet we have managed to upscale production to meet the needs of an Asian market, which I think is quite a feat. We have a secret recipe and literally everything is still made by hand.
What's your vision for the future of the business?
We will have our own brand in Hong Kong, with a flagship store there and a huge online presence. We've been inspired by the sales reports we get a glimpse at from China and we really want to be the ones making the high margins. The plan is all designed and ready to go - now we are just waiting for a nice investor to come along!
Coming up in Small Business: Many blog for love, but do you also do it for money? I'm interested to hear from small business bloggers - if you've got a story to share, drop me a note: nzhsmallbusiness@gmail.com.