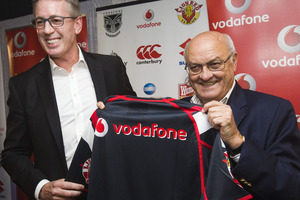 Warriors chairman Bill Wavish says Sir Owen Glenn needs to sell his 50 per cent stake for the Warriors to move on from the mess presently engulfing the club.
Glenn and co-owner Eric Watson have been locked in a war of words following the departure of Matt Elliott as coach after the side's awful 37-6 defeat to the Sharks last weekend. Glenn put out another statement today reiterating he had no idea about Elliott's sacking and challenging a statement by Watson which he labelled "an untruth".
He also said, "given the breakdown of our relationship," he offered to buy out Watson's shareholding and, when Watson named his price, said it was "grossly excessive". Glenn then offered to sell his share to Watson but said negotiations ceased after Watson offered $1 million for his 50 per cent share in the club, a stake he originally paid $6.15 million for.
The pair promised great things when they joined forces in 2012, saying they wanted to turn the Warriors into the "best sporting franchise in Australasia".
Wavish believes the best resolution is for Glenn to sell his shareholding to Watson, who bought the club off Tainui in 2000.
"I cannot imagine a circumstance other than Owen selling his shareholding," Wavish told the Herald. "That's the best result for the club. I would like to think it would happen but I don't know. I cannot believe Owen would buy out Eric.
"Hopefully cool heads prevail. Divorces are best carried out in private rather than public. They have to sort things out.
"If people really have the best interests of the Warriors at heart, they are going to put aside their differences and focus on the footy. I encourage everyone to do that."
Wavish released an email from Glenn to chief executive Wayne Scurrah from March 17 which he said illustrated Glenn didn't want to have anything to do with the running of the club.
Under the subject of recruitment, Glenn wrote: "As Eric is well aware - and indeed some of the Board - that the shareholding held in the joint company GWNZ that Eric is 50 per cent equity shareholder, that in turn owns the Warriors, is not under my control.
"Therefore I have no part to play in any such discussion nor for that matter anything to do with the NZ Warriors until this matter is resolved by the relevant court."
Wavish didn't know what "not under my control" and "relevant court" meant.
Elliott also put out a statement today, saying he agreed to the press release issued by the Warriors which said he 'resigned' and that he held no bitterness towards the club.
"I sat with chairman Bill Wavish and agreed on the press release," Elliott said in the statement.
"At the end of the day, the club would have preferred this didn't happen and I'm in the same place. In these difficult situations, it's not about wording, it's about being respectful and I very much appreciate Bill for his sensitivity.
"My opinion around the decision has the same impact as every other human on the planet ... zero. The ref has blown his whistle and not even he can change the decision made.
"For what it's worth, I really believe Andrew McFadden is more than ready and has what it takes to lead the club to sustained success. Conversations led by myself had already taken place regarding Cappy [McFadden] taking over next year.
"My desire to finish the process started was very strong, however, circumstances changed and in the grown-up world you take this stuff on the chin.
"I have absolutely no bitterness towards the club. In fact, I am very grateful for what they have done for me and my family."