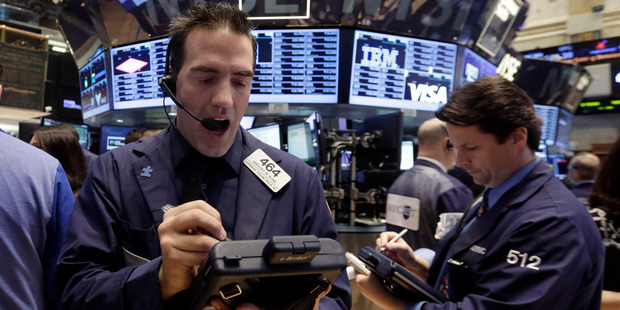 Wall Street gained overnight, following a three-day slump, as investors found value in the same stocks that had been sold off recently.
Shares of Yahoo! rose 4 per cent, Google added 3.1 per cent, while Facebook gained 2.3 per cent, rebounding from slides in recent days amid concern over lofty valuations.
"A lot of these growth stocks had been taken down 10 to 20 per cent, but usually that loss finds a bottom," Mark Luschini, chief investment strategist at Philadelphia-based Janney Montgomery Scott, told Bloomberg News.
In afternoon trading in New York, the Dow Jones Industrial Average rose 0.24 per cent, the Standard & Poor's 500 Index gained 0.46 per cent, while the Nasdaq Composite Index climbed 0.90 per cent.
Gains in shares of Nike and Caterpillar, last up 3 per cent and 1.6 per cent respectively, helped propel the Dow higher.
The US$30 billion auction of three-year US government notes attracted solid appetite.
The notes drew a higher-than-expected yield of 0.895 per cent, while the bid-to-cover ratio was 3.36, versus an average of 3.3 for the past 10 sales, according to Bloomberg News.
Shares of Alcoa were up 0.5 per cent before the company is set to report its latest quarterly earnings after the closing bell today.
In Europe, the Stoxx 600 Index ended the day with a 0.3 per cent decline from the previous close. Germany's DAX fell 0.2 per cent, France's CAC 40 gave up 0.3 per cent, while he UK's FTSE 100 retreated 0.5 per cent.
The International Monetary Fund is upbeat about the outlook for the world's largest economy, saying "a major impulse to global growth has come from the United States".
In its latest World Economic Outlook, the IMF predicted global growth to average 3.6 per cent in 2014, down from its 3.7 per cent forecast in January. It expects the US economy to expand 2.8 per cent this year, unchanged from its previous forecast, while it upgraded its outlook for the euro zone to 1.2 per cent in 2014.
"The global recovery is expected to strengthen, led by advanced economies," the IMF said. "Growth in emerging market and developing economies is expected to pick up only modestly."
"The balance of risks to global growth has improved, largely reflecting better prospects in advanced economies," the IMF said. "However, important downside risks remain-notably a yet-greater general slowdown in emerging market economies; risks to activity from lower-than-expected inflation rates in advanced economies; incomplete reforms; and rising geopolitical tensions."
"New worries on the horizon include persistently low inflation in advanced economies, a weaker outlook for emerging markets than thought in the second half of last year, and recent geopolitical strains," the IMF warned.