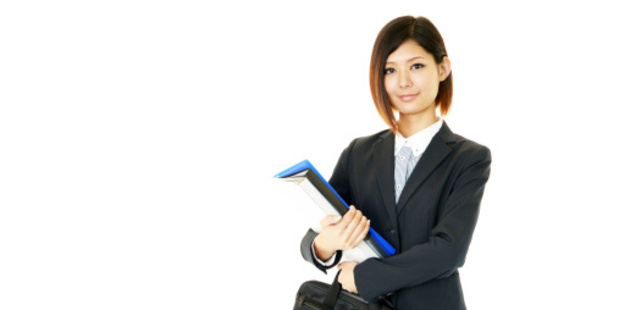 Japanese Prime Minister Shinzo Abe's reflation campaign last year helped draw the most women to work since 1991. He now plans to add a stick to that carrot, scaling back tax benefits for spouses with limited earnings.

The administration is reviewing rules that let about 14 million married workers earn as much as 1.03 million yen ($9,911) a year tax-free. Removing the measures, which cost an estimated annual 600 billion yen in fiscal revenue, could spur some women to work longer hours, and help bolster Japan's shrinking job market.

"The traditional family structure where husbands go out to work and wives look after the home is crumbling," said Akiyoshi Takumori, chief economist at Sumitomo Mitsui Asset Management Co. in Tokyo. "The labor force is shrinking and there is a growing need for immigrants or women to work."

Without greater access to childcare facilities, the move risks adding a burden to households hit by the end of a 15-year slide in the cost of living and the first sales-tax rise since 1997. The dilemma showcases the challenge for Abe in attempting to stoke growth and inject dynamism in the workforce while reining in the world's largest public debt burden.

The number of women employed grew by 470,000 last year to 27 million - the biggest increase since 1991, according to the internal affairs ministry.

Japan's female labour participation rate is 73 per cent, according to a report last year by Kathy Matsui, Goldman Sachs's chief Japan strategist and the author of reports on "Womenomics" that have been cited by Abe. That compares with a high of 96 percent in Finland, and 85 percent in the U.S., according to Matsui.

The strategist sees long-term gains from a tax change.
"The benefit that is 'lost' for certain households where the wife opts to stay at home should be more than compensated by the income earned by women working outside the home," Matsui wrote in an email.

As Abe tries to maintain investors' faith in the so-called "third arrow" of Abenomics - changes to improve the efficiency of the economy - he told a meeting of advisory panels on March 19 to consider revising the spousal taxes.

Private-sector members of the groups said the rules deter female participation in the labor force, noting a high number of housewives earning about 1 million yen - not something that would occur without the ceiling.

The current system also gives married workers earning under the threshold extra welfare benefits as they can be placed under partners' health insurance and pension plans for free.

Sumitomo Mitsui's Takumori said that getting more women into the workplace also requires discussions of child-care, nursing and social welfare.

Only about 30 per cent of housewives doing part-time jobs want to work full-time, said Takami Furuhashi, an researcher at Aidem, a Tokyo-based employment agency. "Many housewives use the tax break so they can work flexible hours that allow them to bring up children and do household chores," she said.

Kaori Hori, a mother of two teenagers from Chiba prefecture, is one of the women who keep their income below the ceiling.

"I'd like to work a bit more but I haven't taken that step yet as I've heard I may incur losses if I work beyond the benefit limits," said the 47-year-old who works about 25 hours a week. "I'm worried that reducing the allowance will make things harder for me."

Removing the tax-break barrier could open the way for more female full-time workers, said Tomo Kinoshita, chief economist at Nomura Holdings in Tokyo. More women in work could help stem a decline in the nation's work force that Nomura sees starting from about 2016.

Another way to boost the labour pool would be to increase immigration. The government today decided to issue special visas for foreign construction workers to work in Japan ahead of the 2020 Olympics.

Any extra blow to household incomes would come just as purchasing power is falling. Price rises are outstripping wage gains as Abe and the central bank chase a goal of 2 per cent inflation and an end to Japan's 15-year deflationary malaise.

A 3-percentage-point increase in the nation's sales-tax this week is projected by economists to trigger a one-quarter economic contraction. Consumer confidence fell in February to its lowest since September 2011.

Still, Miki Ohata, an economist at Mitsubishi UFJ Research and Consulting in Tokyo, sees scrapping the tax break as likely aiding Abe's efforts to achieve sustained growth in the long term.

"When wives work, consumption rises accordingly - spending rises for household services, eating out, female clothing and social expenses," Ohata said. "It will lead to the positive cycle that Abenomics is aiming for."

- Bloomberg