Tumbling dairy prices cause drop in the New Zealand dollar and threaten farm incomes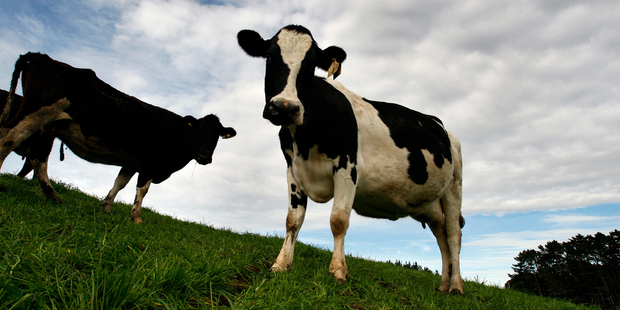 A substantially lower payout from Fonterra for 2014/15 looks likely after international dairy prices dropped sharply at yesterday's international dairy auction, economists said.
Fonterra in February raised its forecast farmgate milk price for 2013/14 by 35c to a record of $8.65 a kg of milk solids, but yesterday's result could trim 10c to 20c off that, they said.
More importantly, the milk price could fall below $7 a kg over 2014/15, depending on the value of the New Zealand dollar, if current market conditions persisted.
Local dairy production, which has a big bearing on international prices, was such that greater supply from farmers seeking to cash in on the record farmgate milk price was driving auction prices lower, economists said.
Ideal growing conditions throughout most of the country - aside from droughts in parts of the North Island - meant national production was looking like being about 10 per cent up on last season.
At yesterday's auction, the GlobalDairyTrade price index dropped 8.9 per cent to US$4124 a tonne from US$4563 a tonne two weeks ago, the fourth straight decline and the lowest level since August 2012. Some 39,653 tonnes of product was sold, up from 39,008 tonnes a fortnight ago.
Whole milk powder, the biggest product sold by volume and the most important one for local producers, fell in price by 8.4 per cent to US$4033 - its biggest decline since May last year.
Economists said the latest GDT prices could shave a little off the farmgate milk price for this season.

"More importantly, it re-emphasises that next year is probably going to see a lower payout," ANZ rural economist Con Williams said. He said it was possible that very strong supply in New Zealand had overlapped a seasonal lift in production in China, putting higher volumes of product on the market.
But he said the strong supply conditions in New Zealand could change if drought conditions started to impact more heavily on production.
ASB rural economist Nathan Penny said farmers were "cranking the handle" and producing more in response to the high payout forecast.
The bank now expects production to be up 11 per cent on last season's, up from its previous forecast of 10 per cent.
Bank of New Zealand economist Doug Steel said prices would decline next season and the overnight auction supported that view.
He added that a farmgate milk price payout below $7 was possible for 2014/15, depending on market conditions and the exchange rate.
Steel said foreign exchange markets had been slow to appreciate what had been happening in the dairy trade.
"After all, 30 per cent of New Zealand's merchandise exports have just fallen 18 per cent in value in two months - which is of importance," he said. "Maybe the market is getting its head around that."
Imre Speizer, senior markets strategist at Westpac, said the NZ dollar lost value against the Aussie dollar on the back of the result, going from NZ$1.0680 to NZ$1.0740 when the results came out.
Against the US dollar, other factors were at work, but the auction added downward pressure to an already weakening kiwi.
By late in the trading day, the currency was at US86c, down US1c from just before the auction.
Speizer said weaker dairy prices would create "a major obstacle" for further gains in the currency.
While lower product prices are likely to erode Fonterra's farmgate milk price, they are a benefit to the manufacturing, or dividend-paying side of Fonterra, which has suffered from the effect that high prices have had on inputs.
Units in the Fonterra Shareholders Fund, which gives investors access to Fonterra's dividend flow, closed up 5c at $6.15 yesterday.
- APNZ