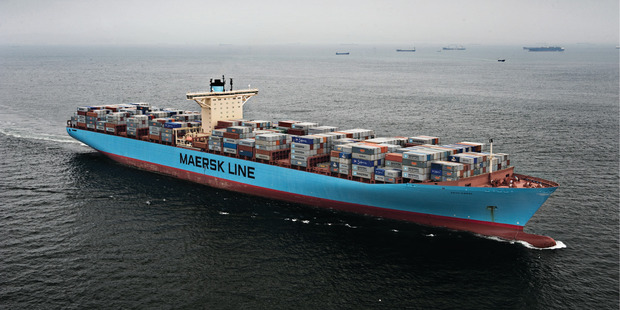 The bulk of New Zealand's imports come through the Ports of Auckland while the Port of Tauranga is the undisputed king of the export trade.
Ideally, it would be more efficient to have both exports and imports going through the same port, and for the world's biggest container shipping company, Maersk Line, moving containers in and out of New Zealand is a logistical challenge.
For Maersk - the biggest player in the local market with about 30 per cent market share - the import/export anomaly means the company has to ship a lot of empty containers out of Auckland to other parts of the country.
The company's New Zealand managing director, Gerard Morrison, said the juggling act was a big part of its costs.
"The majority of the container surplus is in Auckland, so we have to move those around the country," he said. "There is a cost in doing that, which of course gets passed on to the customer at some point.
"If you looked at this on paper and asked, does this make sense, people would laugh and say, no, it really doesn't. However, it is the reality."
In Auckland's case, about 67 per cent of imports through the port end up in distribution centres within a 20km radius of the port's gates, so having the port there makes sense from the supply chain perspective.
The only problem is: what to do with those empty containers.
To complicate matters further, there is also heavy imbalance between total imports and total exports, in volume terms. The country's import volumes are one third less than its export volumes.
And it's often the case that incoming containers - carrying the likes of plant and machinery - need to be specially cleaned to contain more sensitive products, like milk powder, on the way out.
Like all the big shipping companies, Maersk Line came under pressure in the aftermath of the global financial crisis and the environment remains difficult, Morrison said.
Maersk is no stranger to putting the squeeze on ports to improve their turnaround times, as Ports of Auckland found out in 2011 when it was ditched in favour of Tauranga, but it has since clawed back some Maersk business.
As far as the Auckland versus Tauranga import/export argument goes, Morrison said it was structural imbalance within the market in New Zealand "and one that is unlikely to change".
- APNZ