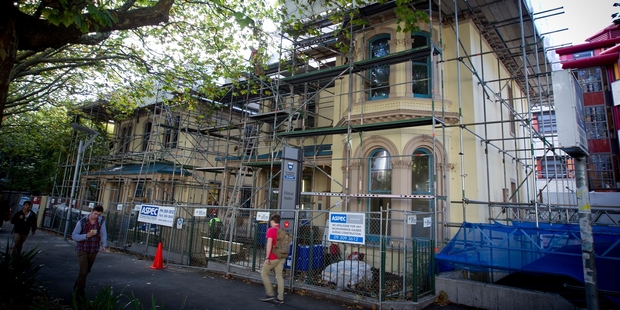 Dampness in three historic Auckland houses on the University of Auckland's campus was so severe that some staff refused to work there.
Now, the places are being fixed in a $4.5 million upgrade.
Aspec Construction will soon be done strengthening and refitting the ornate, distinctive Symonds St houses.
In May 2012, the university said the Department of Political Studies was leaving 12, 14 and 16 Symonds St for levels within a Short St building indefinitely.
"This move is to enable Property Services to thoroughly investigate issues of dampness and ventilation in these historic houses, which have recently raised concerns about the impact on the health of staff working in them, particularly in numbers 14 and 16. Relocation will allow thorough investigation of the problems and possible remedial action which will respect the heritage status of the buildings."
Peter Fehl, the university's property services director in charge of a $1 billion property expansion across the university, said $4.5 million was being spent on the retrofit of the line of neighbouring historic buildings at 12, 14 and 16 Symonds St.
The Category 2 Historic Places Trust registration on 16 Symonds St says it is the southernmost of the Italianate houses, reflecting high-status urban design in late colonial Auckland.
The house was built in 1884 in a design fashionable in the 1870s and 1880s, particularly among merchants, whose commercial premises were often erected in a similar style.
"Plans for identical houses at 14 and 16 Symonds St were drawn up by the noted Auckland architectural firm of Edward Mahoney & Sons in March 1884," the trust says.
The house at 16 Symonds St was built by William Baildon & Alexander Stevenson and was initially let to surgeon Charles Newberry Cobbett in 1884.
The three properties form part of the outstanding historical and cultural landscape in the lower Symonds St area.
Fehl said the political studies department had occupied the houses for some years but problems arose.
"There were various issues with the buildings for a long time but the work was triggered by the need to do seismic strengthening. At the same time, we had issues around dampness and the basements below street level needed remediation," he said.
"The strengthening methods being used are building new foundations, installing steel connections between walls and floors, carbon fibre wrapping to the walls and new diaphragms being installed in the roofs. A lot of the work is seismic strengthening," he said.
Previous attempts to resolve dampness issues had not been entirely successful "so we're doing a complete retrofit and refurbishment with new floors, better drainage and mechanically it means getting more air into the bottoms of the buildings", he said.
New fanned air circulation systems have been installed.
Work is due to finish around mid-May, Fehl said.